Why choose a Small, Intimate Wedding
June 01, 2023

Melody Mburu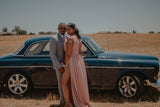 It is beautiful to witness people beginning to see the beauty found in simplicity and intimacy in a society where opulence frequently takes center stage. When it comes to weddings, choosing a small, private event may open up a world of special advantages and provide priceless memories that will be loved forever. We will explore the benefits and delights of having a small wedding in this post, where love is the focal point and close relationships permeate every second.
Personalized Elegance
One of the greatest advantages of a small, intimate wedding is the opportunity to infuse every detail with personal meaning. From choosing a venue that holds sentimental value to curating a bespoke menu that tantalizes the taste buds of your closest loved ones, you have the freedom to create an experience that authentically reflects your love story. 
With a smaller guest list, you can devote more time and attention to the intricate details that make your celebration uniquely yours. Imagine personalized wedding favors, handwritten notes, and carefully selected songs that resonate with your journey as a couple. Every element becomes a reflection of your love and an expression of your unique bond.
An Atmosphere of Warmth and Togetherness
The ability to personalize every aspect of a small, private wedding is one of its biggest benefits. From picking a location with personal importance to creating a custom menu that tempts your closest loved ones' palates, the event's intimacy allows for genuine connections and heartfelt conversations. The atmosphere brims with love, laughter, and shared memories, creating an ambiance of warmth and togetherness that is hard to replicate in larger weddings. 
Embracing the Depth of Emotions
Every moment becomes a treasure to be treasured forever during a small wedding. Each moment of the celebration is intensely felt by you and your guests, from the exchange of sensitive vows to the moving speeches and the exclusive first dance. 
Because of the setting's closeness, these events have a greater emotional impact and can thus resonate deeply. Shared intimately, the pleasure, laughter, and tears result in memories that will always be carved into your hearts. You can genuinely cherish and appreciate each priceless moment because of the wedding's smaller size, which fosters a greater sense of closeness.
Personalized Attention and Appreciation
With a modest wedding, you may give your guests' comfort and enjoyment a top priority. You may give each person more time and attention when there are fewer people there, making sure they feel valued and appreciated. You have the chance to give those who have joined you on this important day a genuinely unforgettable experience, from bespoke welcome presents to sincere thank-you cards. 
Because of the small atmosphere, your guests will feel like they are truly a part of the celebration as they engage in talks, laugh, and share experiences. You may plan a seating layout that encourages connections, offers chances for significant encounters, and offers a whole experience that makes a lasting impact on each visitor.
A Streamlined and Enjoyable Experience
An enormous wedding can be difficult to plan since there are so many logistics to take into account and careful planning is needed. However, the preparation procedure is simplified and easier to handle for a small, private party. Without being overwhelmed by the scope of the event, you may concentrate on the particulars that are most important to you. 
This makes for a more pleasurable and relaxing wedding planning process and guarantees that every detail will be performed perfectly. You may approach the planning process with ease and creativity, whether it's identifying the ideal location, creating a custom menu, or hand-picking relevant décor. Less emphasis on keeping track of a large guest list frees up your time to focus on planning a day that genuinely embodies your goals and values.
Quality Over Quantity
While huge weddings might be expensive, a small, personal wedding gives you the chance to spend your money more wisely. Fewer visitors means you may spend more on quality rather than quantity. Without going overboard with your spending, you may create a beautiful and unforgettable experience for yourself and your loved ones, whether it's a sumptuous five-course meal or custom wedding favors. 
You may spend more money on the things that are most important to you because of the intimate setting, which results in an elegant and opulent ambiance that everyone will remember. You may give your loved ones an event they'll never forget without going over budget if you concentrate on giving them a private experience.
Conclusion
A charming approach to commemorate your love is by opting for a small, private wedding. A genuinely magical event is enhanced by the small festivities' customized elegance, meaningful relationships, unforgettable moments, improved guest experience, stress-free planning, and affordability. 
Create a wedding day that represents the depth of your love by embracing intimacy, enabling you and your loved ones to savor the beauty of each moment. Every piece of a tiny wedding becomes a tribute to the love narrative you are beginning, where love takes center stage. Let the closeness of your gathering foster a sense of coziness, intimacy, and lifelong memories.