Designing a Wonderful Wedding Seating Plan for Happy Guests
June 02, 2023

Melody Mburu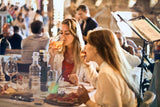 A memorable and enjoyable wedding reception depends on a well-organized seating arrangement. The goal is to create a setting where guests feel comfortable and can interact with one another, not just to assign seats. This manual aims to assist couples in creating a seating arrangement that ensures happy guests and a truly unforgettable experience, while also facilitating easy logistics and beautifying and enhancing the wedding celebration.
Relationships between Guests
It's crucial to take the relationships between guests into account when planning the seating arrangement. Determine any relationships with family members or close friends, as well as any potential dynamics that might affect interactions.
Couples can purposefully assign seats that promote good connections and reduce potential discomfort by considering these dynamics. seating visitors with familiar faces and feeling comfortable helps to enhance guest satisfaction and create a friendly, welcoming atmosphere.
Grouping Guests
Organizing guests into different groups is an effective way to simplify the seating plan. Consider grouping guests based on their relationship to the couple, such as family, friends, or colleagues. This allows for separate tables for each group, creating opportunities for guests to connect with others who share similar backgrounds or interests. Grouping guests in this way fosters a sense of togetherness and ensures a harmonious atmosphere throughout the reception.
Special Seating Arrangements
Special seating arrangements need to be carefully considered. A head table accommodates the bridal party, while a sweetheart table gives the couple their own private area. Children will have a fun and interesting space that is catered to their needs if a separate table is set up for them. Strategically placing these unique decorations guarantees that the couple remains the center of attention while facilitating simple interaction with other guests.
Taking Guest Preferences into Account
When assigning seats, it's crucial to take the guests' preferences into account in order to ensure their satisfaction. Give visitors options to choose from or let them make special seating requests. This shows that their convenience and enjoyment are valued, which enhances the overall experience of the reception.
Keeping Personalities and Interests in Balance
The various personalities and interests of the guests are taken into account when designing a balanced seating arrangement. Aim for a mix of outgoing and more reticent people at each table, taking into account shared connections and interests. This fosters a stimulating and enjoyable environment where visitors can engage in deep dialogue and make new connections.
Potential Conflict Resolution
Tactics must be used when handling delicate situations, such as parents who have divorced or estranged family members. To reduce tension and ensure a positive experience for every guest, seat people with tense relationships apart. A harmonious atmosphere permeates the reception thanks to thoughtful consideration of potential conflicts, which frees everyone up to concentrate on celebrating the happy couple's special day.
Using Seating Plan Tools
Take advantage of the various apps and tools for seating plans that are offered to make the process simpler. These tools provide features that facilitate changes and adjustments, resulting in a seamless planning process. Use them to experiment with different seating arrangements, visualize them, and quickly settle on the ideal one.
Successful Seating Plan Communication
To prevent confusion, it is crucial to communicate the seating arrangement clearly and effectively. Create seating diagrams that are simple to read to post at the event or give to guests in advance. A clear seating diagram makes it easy for guests to locate their seats, ensuring a smooth and enjoyable event. Consider offering place cards or escort cards as well, which will direct guests to their assigned tables and streamline the seating procedure.
Personalization
The seating arrangement can be made more appealing overall and more intimate by including personalized touches. Take into account particular details that express the couple's distinct style, such as images, sayings, or symbols with personal significance. The warmth and friendliness this personalization brings about make the space feel valued and intimately connected to the love story of the hosts.
Making a Friendly Environment
Couples can improve the ambiance by establishing a cozy and welcoming environment in addition to the seating arrangements. Think about incorporating decorative accents, such as place cards, table centerpieces, or favors that go with the wedding's theme. These particulars produce a harmonious and aesthetically pleasing environment, which enhances visitors' enjoyment.
Fulfilling Guest Needs
When designing the seating arrangement, it's crucial to take your guests' individual needs into account. Make sure guests with mobility issues can easily access their seats and the amenities they require. Ensure that there are options for people with allergies or dietary restrictions so that everyone can fully enjoy the reception. Couples foster an inclusive environment where everyone is welcomed and at ease by attending to these needs.
Adaptability and backup plans
In addition to careful planning, it's crucial to be adaptable and ready for unforeseen events. Prepare backup seating arrangements and contingency plans in case of last-minute changes or unexpected guest additions. Being flexible makes sure that both the couple and their visitors have a smooth and stress-free experience.
Conclusion
Making a memorable wedding seating plan involves more than just assigning seats; it involves fostering an environment where guests feel welcome, connected, and valued. Couples can make a seating plan that maximizes guest satisfaction and fosters a harmonious atmosphere by comprehending guest relationships, grouping guests, taking preferences into account, and resolving potential conflicts. 
The overall experience is further improved by personalization, efficient communication, and a friendly environment. Couples can handle unexpected changes with ease if they are accommodating to visitors' needs and adaptable. Couples can create a seating plan with careful thought and attention to detail that not only helps the reception run smoothly but also leaves guests with positive memories of the event.