Wedding cake trends for 2023
April 27, 2023

Melody Mburu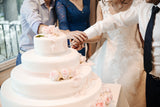 Wedding cakes have become a statement piece of the couple's personality and style in recent years, and more so in 2023. While the more traditional white wedding cake is still a great choice for a modern cake, more colorful and elaborate cakes have made an appearance at many weddings. 
Once you have finished all planning and preparations for meals, all that is left is finding your cake and a baker that meets your needs. In this article, we will take a closer look at the growing trends in wedding cake art trends in 2023.
Grand Wedding Cakes
These towering, gravity-defying confections have made an appearance at many weddings and tend to capture the attention of everyone who walks into the reception space. This cake is a beautiful way for couples to express their love by using details from their décor. 
Grand wedding cakes require a custom-made cake stand, artistry, and a clear vision for the cake. You should first decide the shape, flavor, and number of tiers you would want. When choosing a flavor of the cake, sponge cake is our top pick as it is firm and light at the same time. 
Edible Flower Decoration
Edible flower decorations are beautiful and can go with any flavor of the cake. Earthy elements have shown to be a trend here to stay and being that these flowers are completely safe to eat, this cake decoration will not be phased out anytime soon.
Waterfall and Spiral Wedding Cakes
Flower decoration on cakes has been a thing for some time now. However, cake artists are going a mile further with elaborate designs focusing on intricate sugar and/or fondant florals and designs. Wedding cakes will be covered in a waterfall-like appearance thanks to intricate handmade decorations like structural swirls, and sugar flowers or butterflies.
Gold Wedding Cakes
For years, wedding cakes have used edible gold, which has shown to be a durable metal. with a metallic appeal, gold has a variety of colors ranging from yellow gold to rose gold, and as such, it provides a distinctive and alluring base cake color. This is what gives gold its shiny attractiveness. Gorgeous handcrafted sugar flowers or ornaments in any color, from light pastels to dark jewel tones, go beautifully with gold. 
Wedding Dress-Inspired Cakes
For couples who would like to maintain a classic look with their wedding cake, a new trend has risen just for you. By incorporating aspects of the bride's wedding dress, the wedding cake becomes more sophisticated and eye-catching. Adding fondant patterns of lace, and embroidery-inspired piping to edible-looking crystals and pearls. 
Ultra-Textured Wedding Cakes
Monochromatic textured cakes give the best of both simple minimalistic wedding cakes and extremely detailed wedding cakes. With a simplified color palette, the details on the cake being an interesting eye-catching look to them. This specific trend involves carving patterns into icing or using physical icing to create shapes.
Being that it is separate from the use of fondant, the baker assumes a role of a sculptor to make unique textures such as diamond shapes or even lace shapes. There are a lot more textured wedding cakes in the event you decide to go with this design.
Geode Wedding Cake
Made with rock candy crystals, this wedding cake is almost too pretty to eat and will definitely impress your guests. Its ability to inject color into what used to be a simple cake affair has made this trend one that is adored by everyone. Geode cake can align with the wedding theme or adorn the event with purple amethyst or even divine blue agate. 
This trend first started here and is still going strong in 2023.
Vintage-Inspired Wedding Cake
From classic wedding cakes to more interesting imitations of vintage cakes, many couples have not gone wrong in looking upon history for inspiration.  Time and time again, vintage cakes have been made interesting by adding modern cake toppers or incorporating modern decorations into old designs.  
Either way, these cakes make a beautiful centerpiece for the wedding reception! Couples are looking back at family wedding photos and using their cake design as their "something old". Here, you will find more inspiration for these designs.