Ultimate Guide To Choosing Memorable Wedding Favors
July 04, 2023

Melody Mburu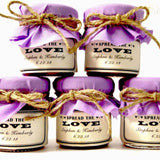 How do you show appreciation to your friends and colleagues? What you need is wedding favors. Wedding favors are small gifts given to wedding guests as a token of appreciation for their attendance. These thoughtful keepsakes serve as a lasting reminder of the special day.  This article will explore what to consider when it comes to choosing wedding favors. 
Are Wedding Favors Necessary
Well, the answer is no. Wedding favors just hold a symbolic value. They are a gesture of goodwill and hospitality towards your guest, which is only necessary if you are sentimental. Therefore, your wedding favors do not need to be expensive, just meaningful. Make it unique to you and your spouse so your guests can get a gist of what you as a couple are about. 
Factors to Consider When Selecting Wedding Favors
There are many choices when it comes to wedding favors. It can be a daunting task. It is essential to consider a few key factors, and here are some tips that can help you choose the right wedding favors for your big day.
Wedding Theme
The wedding theme is influenced by seasons and by preferences. Therefore, your favors should complement the overall aesthetic of your wedding. Fall weddings give a cozy vibe so that you can give syrup or mini pumpkin pies. You can also give candles or scented soaps for a Tropical wedding.
Budget
Money is one of the most significant determining factors regarding the kind of wedding you will have. Allocating a portion of your budget to wedding favors will also determine what kind of favors you will buy. Budgetary constraints will help you narrow your search and explore meaningful gifts. It is not about the price tag but the meaning behind your gift. A general guideline for allocating funds is to give 3% to 5% of your budget.
Guest Count
The number of guests will also significantly impact the budget for wedding favors. You can go fancy if you have less than 50 guests. The more guests you have, the more you will need to spend.
Type of Wedding Favor
The type of wedding favor you choose will also affect your overall cost. If you are thinking of customized utensils, they will cost more than simple cookies.
Guest Preferences
Every visitor is different; thus, considering their characteristics and preferences may improve your favor selection. If there are any methods to combine their cultural backgrounds, interests, and hobbies into your favor selections, think about them. Making the favors specifically for your visitors' preferences will make them feel wonderfully loved and treasured.
Cultural Preferences
It's crucial to know any traditions or taboos around gift-giving if your wedding honors many ethnicities or religious traditions. Spend some time researching and choosing favors that are respectful of all cultures. This exhibits your attention and awareness of the many backgrounds of your visitors.
Creative Wedding Favor Ideas
Personalized Edible Treats
Bake something beautiful and tasty for your guests, personalizing each with love. Let your creativity shine in the kitchen, and prepare delicious treats for your guests. I personally enjoy cookies, which make them easy and financially less draining. You can also go with tiny personalized chocolates or honey in mason jars. 
Eco-Friendly Favors
Choose eco-friendly wedding favors to embrace sustainability. construct plantable seed paper containing flower seeds using recyclable materials, or construct your succulent terrariums. These eco-friendly favors encourage environmental awareness while enhancing your guests' life with a touch of the natural world's splendor. Some examples of eco-friendly favors are:
Seed Packets - Whether they are flowers, herbs, or even tree seeds, these gifts represent sustainability and expansion while giving visitors a practical introduction to fostering new life.
Potted Plants or Succulents - These live presents encourage air cleansing and a connection to nature in addition to beautifying your visitors' homes. Select low-maintenance plants that can thrive in various settings so visitors can spend a long time with their green friends.
Reusable Utensils - Gifting your guests reusable utensils made of eco-friendly materials like bamboo or steel. These sets can be chopsticks or a fork and knife wrapped in a pouch made of hemp. Help reduce pollution while giving a valuable gift. 
Upcycled Items - You can have gifts such as notebooks made of recycled paper, repurposed glassware, or salvaged wood coasters. These distinctive and environmentally responsible favors show off the elegance and possibilities of recycled materials.
Etiquette When Selecting Wedding Favors
Relationships
When choosing favors, take your connection with your visitors into account. While acquaintances and coworkers want generically cute favors, close family members and friends may prefer more customized and meaningful gifts. Making a choice by the situation guarantees a heartfelt and fitting gesture of appreciation.
Packaging And Presentation
Just as significant as the favors themselves is how they are presented. Use eye-catching packaging, such as organza bags, classy boxes, or specialized containers. Add ornamental items like ribbons, tags, or dried flowers to improve the aesthetic appeal and build anticipation among your visitors.
Timing
Pick the proper time to hand out your favors. This can be done at the reception, at each guest's place setting, or a unique table for favors. Consider hiring ushers or coordinators if your guest list is vast to aid with the distribution so that everything runs smoothly and efficiently.
Conclusion
Selecting wedding favors that make your guests happy to appreciate your show of gratitude. Giving meaningful and appropriate gifts favors by considering factors such as budget, guest preferences, and wedding theme. Embrace your creativity with original DIY projects, and make sure that the favors you choose are useful and enjoyable for the visitors. Lastly, follow correct etiquette rules while choosing and giving out favors. With these tips, you are prepared to provide your loved ones with an unforgettable and treasured experience on your big day.