Should You Bring A Gift To An Engagement Party?
July 06, 2023

Melody Mburu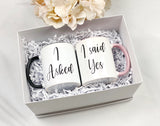 Your friend has just gotten engaged, and you are considering giving them a gift. Congratulations to the lovebirds who have committed to each other to become a family—the moment they said "yes," the journey to the engagement party. There is no better way to show your support than through personalized engagement gifts. These tokens of love are a way of showing that you are someone who goes above and beyond. Let us show you a few ideas you can use as a guide for your wedding engagement gift.
Is It Required To Buy An Engagement Gift?
No matter how fancy the engagement party may be, you don't need to bring a gift. Buying an engagement gift is a personal choice. There is no written rule on gifts for an engagement party. However, depending on your relationship with the people getting hitched, you can bring them something.
In cultures where it is rude to show up at a party empty-handed, they carry a bottle of wine or even a house plant.
Should I Give Money As an Engagement Gift
You can give the engaged couple money that they can use towards their wedding planning. It is not necessary, but money is always a practical gift. There is no pressure on the amount you can give. 
With that being said, other types of gifts can be given, from traditional gifts to those that are trendsetters at the moment.  
How Does a Personalized Gift Matter
A personal engagement gift goes beyond the ordinary and reflects a depth of thought and love. While traditional or generic gifts may lack individuality and significance, a personalized gift speaks to the individuality of the couple and the magic of their love story. Each item is carefully chosen or created, holding a unique connection for their journey, and it is a favorite reminder of this in their lives. He will never forget the happy time.
Personalized Engagement Gifts
There is an array of popular and unique personalized gifts that couples are receiving nowadays. 
Personal Art - Turn your favorite moments captured on camera into masterpieces. Have a professional artist create a romantic or custom painting that decorates your walls with eternal love.
Engraved Jewelry - Write their name or initials on a beautiful necklace to show their love forever. Associate it with a particular place, such as a trip you went on, symbolizing an unbreakable bond.
Love Journal - gift them a love journal where they can create memories and a scrapbook of beautiful moments together.  
Custom Wine Glasses - Customize some wine glasses with what initials of the couple or with a shared interest. Make it unique so that they may enjoy it.
Trending Gifts For Engagements
Stay ahead of the curve by discovering the latest trends in personalized wedding gifts. Customized puzzles featuring their favorite models to where their unique prints are transformed into wearable masterpieces. Another option is personalized voice wave art, showing them meaningful messages or heartfelt sound waves. These sophisticated and sophisticated designs will reflect your imagination and determination to celebrate their love in style.
Conclusion
As you and your friends celebrate their engagement, let your gift speak volumes about your bond and how much you enjoyed their love. By giving a personalized wedding gift, you can capture their unique story and give them a lovely token of your love. The possibilities are endless, from trendy and innovative options to timeless classics with their own touches. Choose wisely and embrace the joy of having a gift engraved in their heart forever, symbolizing the beginning of a lifetime of love and happiness. As you watch their journey from engagement to marriage, let your personalized gift constantly remind you of the love and friendship you shared and the beautiful moments ahead. Celebrating their love encourages and enjoys the gift of personal marriage that genuinely makes a difference in their lives.