How to Give the Perfect Wedding Day Favors
July 04, 2023

Melody Mburu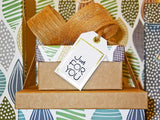 It is exciting to share a memorable and joyous occasion with loved ones. Your wedding day may be the epitome of all occasions, and wedding favors are an excellent way to express gratitude to those who will share in your joy. Choosing the right wedding favors will allow you to create lasting memories. Leave a heartfelt impression on your guests with your token of appreciation.
In this article, we shall explore a few wedding favors ideas and discuss different types of these tokens you can choose from. We shall also provide creative suggestions to make your gifts meaningful and memorable.
Popular Wedding Favor Ideas
Personalized items
Making something unique and personal can make a gift that you give truly unique and meaningful. Consider customized items like engraved keychains, coasters, or photo frames that feature your name, monograms, or wedding date. Personalizing these gifts will serve as a cherished keepsake to remind your guests of the beautiful moments you shared or will share at your wedding.
Edible Gifts
Everyone loves a nice edible treat. Indulge your friends and guests' taste buds with tantalizing gourmet treats. You can choose with chocolates, artisanal cookies, or mini bottles of locally sourced honey. You can even get them a surprise customized tea or coffee blend packaged in unique and beautifully designed containers. These delectable delights will surely bring smiles to their faces leaving a lasting impression. 
Practical Useful Favors
Getting practical and valuable gifts for your wedding guests ensures they can enjoy and keep them longer than edible treats. You can choose from reusable shopping bags, personalized keychains, or custom-designed bottle openers. These gifts are functional, and they show appreciation and serve as a helpful reminder of your wedding day. 
You can also give eco-friendly wedding favors. Opt for wedding favors that minimize the environmental impact, such as biodegradable seed packets and mini-potted succulents. Add to the list things like reusable canvas or jute bags. I would definitely love a plant as a gift for attending a wedding.
DIY Favors
DIY options are great if you enjoy crafts and want to add a personal touch to your wedding favors. Homemade jams, infused oils, or personalized candles created by you and your partner add a unique and heartfelt element to your favors. Your guests will appreciate your time and effort in creating these handmade gifts.
What to Consider when Choosing Wedding Favors
Budget Considerations
Weddings are an expensive endeavor; hence, if you consider adding wedding favors to your beautiful day, it will increase the overall cost of your wedding. Allocate a reasonable amount. Start by exploring cost-effective options aligning with your vision to ensure a memorable experience for your guests.
Also, think of the diversity of your wedding guests. Is there a significant difference in the age factor? Are there people with dietary restrictions or allergies? If you are marrying from a different culture, consider a gift that either honors both cultures. Tailor your favors to suit their tastes and preferences, ensuring everyone feels appreciated and included.
Sticking to your Wedding Theme.
Create a cohesive and harmonious experience for your guests by aligning your wedding favors to your theme. Why not let your creativity shine? If your wedding theme is rustic, consider rustic-inspired favors like burlap-wrapped candles or creative handcrafted coasters. Play with colors that either complement your theme or match it. 
Creative Packaging
Creatively packaging your gifts will have a visual appeal for your gifts. Entice your guests to want your gifts. Use ribbons, personalized labels, or custom-designed boxes and create a cohesive sophisticated look. A little anticipation never hurt anyone. 
Include your favors naturally in your table design by incorporating them into table centerpieces or place settings. Put them at each guest's seat in an original way or use them as part of your table decorations. This charming exhibit will enthrall your visitors and make them feel genuinely valued.
Put your goodies on display in attractive baskets or trays to give visitors a tempting selection. If your wedding has a travel theme, think about utilizing old suitcases as the containers, or use wooden crates for a rustic wedding. Create an eye-catching setting that will make a lasting impression by letting your creativity run wild.
Conclusion
Selecting unique wedding favors is a chance to show your appreciation and provide happiness to your guests. There are several ways to make your favors really memorable, including personalized mementos, eco-friendly solutions, and useful presents. You may make a lasting impression and demonstrate to your guests how much their presence means to you by taking into account aspects such as budget, guest preferences, and the wedding theme and implementing innovative presentation ideas. So start your fun journey of choosing wedding favors that will add even more magic to your special day. Your visitors will be grateful for the kind acts and care that went into selecting these symbols of gratitude.