Becoming a Wedding Officiant
June 30, 2023

Melody Mburu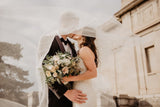 Have you ever dreamt of being at the forefront of love and wanted to help lovers make a vow before their friends and higher power? This article is your guide to becoming a wedding officiant if you have fantasized about having a crucial part in bringing together infatuated couples. Let's begin a journey infused with happiness, love, and the craft of designing wedding ceremonies that will live long in the memory.
Programs for Education and Certification
Consider making an investment in your education and training before starting your career as a wedding officiant. Education programs designed specifically for wedding officiants provide helpful advice. These courses cover various topics, such as comprehending ceremonial customs and rituals. They cover writing unique wedding vows, interpreting marriage license laws, managing logistics, and collaborating with other wedding providers. Enrolling in a renowned certification program increases your knowledge and gives couples looking for your services confidence.
Wedding Skills and Qualities
A successful wedding officer possesses unique skills and qualities that make the ceremony an exceptional experience for the couple and their guests. Explore these essential qualities:
Communication Skills: As a wedding coordinator, conveying emotions, stories, and vows warmly, clearly, and authentically is paramount. Master the art of speaking from the heart and creating an engaging atmosphere that resonates with all attendees.
Speech and Presentation Skills: Captivating an audience is a challenging task. Develop your public speaking skills, practice effective presentation techniques, and hone your presence to engage and connect with couples and loved ones. Remember that your words can inspire, lift your mood and create lasting memories.
Interpersonal Skills and Emotional Intelligence: Forming a genuine connection with a couple is critical to creating a personal and meaningful ceremony. Be observant, empathetic, and open to understanding their aspirations, values, and beliefs. Integrate their unique love stories and cultural elements to create a bespoke experience.
Organization and Attention to Detail: Careful planning ensures a smooth and memorable ceremony. Pay close attention to logistical details, schedules, and order of events. Prepare a detailed ceremony script incorporating personal information while ensuring a smooth transition.
Cultural sensitivity and inclusivity: Weddings bring together different cultures and traditions. As a best man, embrace this diversity and respect different customs and beliefs. Coordinating and integrating rituals and traditions to accommodate all backgrounds and promote an inclusive and harmonious atmosphere.
Adaptability and problem-solving skills: Weddings can present unexpected challenges. Her ability to adapt, think quickly, and suggest solutions ensures a smooth experience for everyone involved, whether it's terrible weather, last-minute changes, or tense moments for couples.
Gain practical experience and complete training
Education provides theoretical knowledge, but practical experience is the bridge that links this knowledge to practical application. Consider opportunities for hands-on experience such as:
Volunteer Opportunities: Work with local religious institutions, community groups, and even wedding planners to host weddings. Volunteering allows you to witness and participate in different ceremonies, understand different customs, and witness the intricacies of a wedding ceremony.
Established Ceremonial Official Support: Contact an experienced marriage official to offer support as an apprentice. Accompanying an expert allows you to observe their expertise first-hand, gain practical insight, and learn the intricacies of creating an unforgettable ceremony.
Practice Makes Perfect: Host a mock ceremony or practice with friends and family. This will allow you to hone your skills, experiment with different ceremony elements, and gain confidence in planning a memorable wedding.
Wedding Industry Network: Attend wedding trade shows and industry events and join a professional organization dedicated to the wedding industry. Connect with wedding planners, photographers, florists, and other vendors who provide valuable insights, opportunities, and recommendations.
Conclusion
Being a wedding officiant is a rewarding career that can play an essential role in a couple's life on their special day. Through education, honed skills, and hands-on experience, you can create magical, personalized ceremonies that will last a lifetime. Embrace your journey, share your love story, and leave your lasting mark as the best man. Remember, the power to unite two souls in marriage is within your reach.
With your knowledge, passion, and deep understanding of running a wedding, you are ready to embark on this unique journey. Embrace the joy, responsibility, and honor that bind couples in love. Every ceremony can create an experience that will be remembered forever. Let love guide you as you step into the world of marriage.