Top 5 Bridesmaid Dress Trends in 2023
March 21, 2023

Kelechi Edeh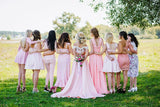 There are a lot of details that go into creating the wedding of your dreams. But few are as delicate as selecting the right outfit for yourself and your wedding party. 
Fortunately, modern-day bridesmaids have plenty of options. Rewearable bridesmaid dresses are a key trend for 2023, so keep that in mind as you shop for outfits. 

Let's look at some other top bridesmaid dress trends for 2023 that you should be aware of.
Mismatched Bridesmaid Dresses
The traditional bridesmaid look of identical dresses with matching shoes and hairstyles has been worn out. Mismatched bridesmaid dresses are a welcome change that is growing in popularity.

These dresses not only allow your friends to express their unique personalities but also add a fun contrast to your wedding photos. Some brides may choose to keep the same colorway or different fabric pattern for each dress; however you choose to incorporate this trend into your wedding party, you can't go wrong. 
Silk and Satin Bridesmaid Dresses
When shopping for bridal party dresses, there are numerous fabrics to choose from. But high-shine fabrics like silk and satin are the way to go in 2023. Satin is a popular choice for most brides due to its soft feel and elegant appearance.
Silk dresses may be more challenging to persuade your entire crew to wear due to their high cost; instead, consider dressing your bridesmaids in a mix of silk and satin dresses. Solid Charm has lovely satin and silk bridesmaid dresses in various sizes and unique styles that your bridesmaids would love. 
Terracotta Bridesmaid Dresses
Warm and earthy tone bridesmaid dresses are becoming increasingly popular in the modern era and would be ideal for a summer or autumn wedding in 2023.
These dresses look great on different skin tones and are easy to mix and match in different colors. Choose a high-shine terracotta fabric like satin or silk to bring this color to life. 
Convertible Bridesmaids Dresses 
Convertible dresses are an excellent way to meet the needs of your bridesmaids. When your friends have different tastes, body shapes, and dress ideas, it can be difficult to choose a dress.
A convertible dress usually consists of two long pieces of fabric that can be styled in various ways to create different necklines and silhouettes. Bridesmaids can choose a V-neck neckline, a one-shoulder look, or even a halter neck style, depending on their unique preferences.
Garden Party Bridesmaid Dresses
Bridesmaid dresses with patterns can be whimsical, fun, and romantic. Think watercolor florals, ruffles, layers of ethereal tulle, and flowy gowns. Choose soft colors like pale grey, garden greens, and blushing nudes to make these dresses stand out.
Even though this is not a new trend, it is expected to dominate in 2023, particularly for summer and spring weddings. 
Take the stress out of dress shopping!
You could plan the wedding of your dreams in 2023 if you keep these dress trends in mind. However, shopping for bridesmaid dresses can be time-consuming and exhausting. Budget, size, fabrics, and style are all important considerations. Consider looking into online shopping if you're on a tight budget.
Quality is our top priority at Solid Charms. Our gowns are sourced from leading suppliers and handcrafted to perfection. If you need assistance choosing the right dress for your bridal party, please contact us, and we will work with you to find the perfect gown. We also provide free shipping to the entire United States!