How To Choose A Wedding Dress For Your Body Shape
March 15, 2023

JAY CAESAR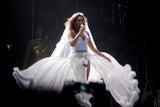 Choosing the right wedding gown is a difficult thing for most brides-to-be, especially if you are unsure of what style suits your body shape. When searching for the best wedding dress, you want something that enhances your figure and highlights all your best assets.
There is a wedding dress style suitable for every body shape, whether you have an hourglass, oval, triangle, pear, or rectangle figure. However, with several different styles and shapes to choose from, it's difficult to know where to start. To help you in narrowing down your options, we did some research to determine which dress styles are most flattering for your specific body type.
Is It Important To Know Your Body Type Before Buying A Wedding Dress?
Identifying your body type is among the most important factors to consider when choosing a wedding dress. This is due to the fact that different dress styles are intended to flatter different body types.
Recognizing your body shape can help you in selecting a dress that highlights your best features while creating a balanced, flattering silhouette. It may also help you save time and money by avoiding trying on wedding dresses that are unlikely to fit your body type.
How Far In Advance Should You Shop For Your Wedding Gown?
It is recommended that you buy your wedding gown at least 6 to 8 months before the wedding. This allows ample time for the dress to be ordered, altered, and delivered. It's important to keep in mind that alterations can take several weeks, so try to leave enough time for any necessary adjustments to be made.
Things To Consider When Choosing The Best Wedding Dress For Your Body Shape
Every bride deserves to feel confident and gorgeous on her wedding day, and you can do so by choosing a wedding dress that showcases your best features. There is a dress style out there for everyone, regardless of whether they have an hourglass, pear, oval, triangle, or rectangle body shape.
Here are a few things to consider when selecting the best wedding dress for your body shape:
Pear
A pear body shape is distinguished by hips that are wider than the bust and a defined waist. It is possible that you have delicate neck and shoulder features, a smaller chest, and a petite, narrow physique.
Search for princess-style wedding dresses that can balance both your torso and your bust while concealing your fuller hips. Spaghetti straps and V-necklines will also help to highlight your upper body. Additionally, you should look for a dress with an attractive bodice, such as artistic beading.
If you want to highlight your lower body features, opt for a dress that fits snugly around your hips. Bear in mind that alterations may be necessary, as your hip and bust sizes may differ, and you may require a customized fit.
Rectangle
Brides with a rectangle body shape have straighter figures, with their shoulders, waist, and hips all having the same width. You could also be tall with little waist definition and a petite bust.
Rectangular body shapes do not have a lot of curves, it is recommended to create the illusion of curves through the dress's silhouette. Two-piece wedding gowns are ideal for making your waist look curvier and slimmer.
A-line wedding dresses and ball gowns that feature a belt or similar embellishment at the waistline can help in the creation of a curvier body appearance and the illusion of a defined waist. Avoid figure-hugging dresses like fishtail, mermaid, and silhouette styles because they will emphasize your straight body shape and give you less definition.
Hourglass
Women with an hourglass body type have a slimmer waist, wider hips, and a larger bust. Finding a dress that compliments your curves is the goal of selecting a wedding dress for hourglass figures.
To highlight your curves, consider a wedding dress with a fit and flare style. Mermaid, trumpet, and bias-cut wedding gowns are also suitable options for an hourglass body shape, as they will enhance your figure's natural curves and highlight your best features.
If you don't want to emphasize your hourglass figure, choose a gown with an A-line skirt or a ball gown to hide your hips. Additionally, a modest neckline, such as a scoop neck, would be a better choice than a plunging sweetheart neckline.
Triangle
You have a triangle body shape if both your shoulders and your upper body are proportionally larger than your lower body. You could have a column shape characterized by broad shoulders, a slimmer waist, and smaller hips.
Halters, puffed sleeves, and off-shoulder necklines should be avoided by brides with triangle body shapes. These dress styles will accentuate your shoulders, giving the impression of a larger width in that area. Thick straps, as well as sleeves that are fitted rather than puffed, will help your narrow wide shoulders.
Look for ball gowns and A-lines, which are flattering on triangle-shaped bodies. They suit a slim upper body with a natural waist and flow away from the bride's hips and thighs with a voluminous skirt. You should also look for wedding dresses with more detail, such as embellishments or lace, to make you appear more balanced.
Oval
Women with an oval body shape have an average or larger bust, narrow hips, and a fuller torso. Your torso is more rounded, and you also have slender legs and arms. Clothing that elongates the torso and creates the illusion of a waist is recommended.
Choosing a halter or high-neck gown may result in the chest area overpowering the rest of your body, leaving other areas undefined. Avoid dresses with pleat patterns and that draw attention to your waist because they are less flattering on your figure.
Look for dresses with a straight or subtle shape, such as an A-line or empire dress. Dresses with flared skirts that flow from the waistline can create the appearance of a more balanced and curvier figure. Wedding dresses with deeper necklines and more detail on the chest part can divert attention from the fuller midsection area and draw the eye upwards.