The Ultimate Wedding Planning Guide
March 24, 2023

Kelechi Edeh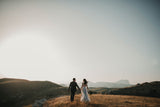 If you've decided to take on the role of wedding planner for your wedding, you should know that feeling overwhelmed is normal. Planning a wedding is a huge undertaking, let alone doing it without prior experience, but it is not impossible.
A successful wedding requires a lot of decision-making, so you should begin planning your wedding as soon as you say yes. Allow yourself at least a year to ensure that you make all the right decisions without pressure and get as much assistance as possible from your significant other.
So, where do you start? The most important thing to remember is to have fun. It's your wedding day, and you don't want it to become a chore you don't enjoy planning. What matters most is that you share your love with your friends and family. 
We'll go over our top seven wedding planning tips, from making a guest list to booking a venue. 
Determine your wedding budget.
Weddings are expensive, so the first step is to figure out how much you can afford to spend. Setting a budget can be difficult, especially if this is your first time planning a wedding, but looking for estimates online can help point you in the right direction. A small wedding budget, for example, might be around $2,500, whereas a typical budget may be about $25,000.

Next, organize your budget into a list, decide what is a priority and what is not, and allocate funds accordingly. However, keep in mind that these numbers will change as you plan, so keep a detailed spreadsheet of how much you spend and adjust it as needed.
Make a guest list.
If you're on a tight budget, chances are you won't be able to invite everyone you'd like to. To match your budget and the venue you have in mind, you'll have to limit the number of guests at your wedding. You should also decide whether your guests can bring a plus one to help you narrow down your guest list and stay within your budget.
Another factor impacting your guest list is who is paying for the wedding. If you and your partner are footing the bill, you will receive approximately 70% of the invites, while your parents will receive 30%. On the other hand, each party gets one-third of the invitations if your mother or father covers the costs. 
Making a guest list is an important part of the wedding party, so collaborate with all parties involved to come up with a number that feels comfortable for everyone. 
Decide on a wedding theme.
You don't have to decide on a wedding date just yet, but deciding on a theme can help you narrow it down. If you want a vibrant and colorful wedding, spring may be the best time to plan it.
In contrast, summer might work if your theme revolves around sunlight and you want a picture with your significant other against a beautiful sunset backdrop. To decide on a theme, have a heart-to-heart with your partner. You can use Pinterest to create mood boards you can share with your supplier. 
Select a venue.
Now comes the exciting part. Choosing a wedding venue is important because it influences everything from the number of people you invite to the type of decorations and even your wedding date. Venues are also quite pricey and may consume a significant portion of your budget.
Look for venues that suit your budget, guest list, and theme. Also, before you sign the contract, ensure you understand what is included in the package. Some venues, for example, may consist of free accommodation, so ask all your questions—there are no wrong questions. 
Get your wedding outfits.
Choosing a wedding gown is a process in and of itself, but it's best to start looking at dresses as soon as you've decided on a venue. Choosing a gown nine months before your wedding allows plenty of time for fittings and other changes.
Following that, you'll have to start planning your wedding party seven to eight months in advance, while the groom and groomsmen should go shopping five months before the wedding. Also, choose a tuxedo or suit that complements the wedding theme—the groom and groomsmen can rent or buy a tuxedo. If you're looking for ideas for your wedding party, look at our 2023 bridesmaid dress trends. 
Wedding rings
The wedding rings are the next item on your to-do list. Take some time with your partner to enjoy this part together and decide whether you want matching or unique personal rings. Also, consider the material because some metals are more durable than others.
Speak with a jeweler who can help you choose the right ring. If you haven't already, consider getting insurance for your engagement rings and adding your wedding bands to the policy.
Plan your menu.
After you've gone through tastings and selected the best caterer for your wedding, it's time to put together a menu. Select the appropriate foods for your wedding theme and budget with the help of your caterer.
Remember to include beverages in your menu. If your wedding theme allows, you could serve fun and creative cocktails. Make a final menu decision about four months before your wedding to avoid a rush or mistakes.
This timeline is a great place to start when planning your wedding cake. You and your partner must agree on a look and flavor that suits both of you. Because it is your wedding, don't spend too much time trying to please your guests. Next, locate a reputable baker available at your convenience to assist you in realizing your vision.
Conclusion
Wedding planning is complex, so don't sweat the small stuff and enlist as much help as possible from friends and family. Make your plans early and leave room for changes if necessary. Your wedding will go without a hitch, so let go of all tensions.