The best bridesmaids dress colors for your spring wedding!
April 05, 2023

Melody Mburu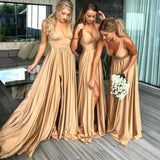 Shop for this look: Gold Bridesmaids Dresses Long Chiffon V Neck Formal Prom Party Gown
While there is no rule to choosing your bridesmaids dress color in accordance to the season of your wedding, having a seasonal overlap will help you with choosing your flowers, décor and even attires. Spring weddings come with the most versatile and prettiest hues to choose from for your special day. 
Once you are done picking out your wedding dress and venue, it is time to choose your bridesmaids dresses. In the spirit of spring, we have chosen the most beautiful color dresses to help you prepare for your wedding.
1. Blush Pink and Light Peach
SHOP THIS LOOK: Sweetheart A-line V-neck Sleeveless Bridesmaid Dress
Blush pink and light peach are very romantic colors that go really well in an outdoor wedding in spring. They can easily go with the décor of the wedding. These colors are elegant and sweet creating the perfect balance of warm and cool. 
The blush pink color dress will go well for bridesmaids with a lighter skin tone. It is important to consider your bridesmaids in your choice of dresses. For those bridesmaids with darker skin tones, light peach or another shade of peach is more suitable. Play around with the different shades and enjoy as you find the dress you love.
2. Red wine or Burgundy
SHOP THIS LOOK: Bridesmaid Dress Satin Tulle A-Line 
Burgundy is one of the most timeless color of dresses to be worn for weddings. It is popular, flattering and pairs well with other colors for a mix-and-match bridal palette. This color dress also goes well with a number of wedding themes from bohemian to flush black tie events. 
3. Navy Blue
SHOP THIS LOOK: V Neck Cap Sleeve Vintage Lace Appliques Beaded Mermaid Bridesmaid Dresses
Navy blue dresses are the next sophisticated, elegant, timeless and sleek fashion trend in the bridesmaids fashion scene. Navy blue as a color will give your beautiful team a fresh, polished look and sets a stylish elegant tone for the entire day. 
There are very many fabrics to choose from with many shades when you decide to go with navy blue. Whichever color you decide, remember to consider your location and theme of the wedding and have a great day.
4. Pastel Perfection
SHOP FOR THIS LOOK: Bridesmaid Dress One Shoulder Chiffon Long
Rainbow pastel dresses are as pretty as they can get! This is one of the most classic looks for summer and spring weddings. It adds an air of romance and playfulness to your bridal team and the wedding in general.
Most times, these dresses go in alignment to the décor and theme of your wedding. Once you go pastel, the only thing left is to choose your colors and material for the wedding. The most popular choices in the pastel are: Sky blue, lemon-color, peach and rouge. 
5. Perfectly Patterned



SHOP THIS LOOK: Bridesmaid Dress Long Chiffon Printed A-line
Patterned dresses can add a touch of whimsy and more creativity to your wedding say. Its a great way of showing your personality and aesthetic. Before, patterned dresses were a taboo and many people shied away from them, so here is a guide on patterned dresses.
Do not be afraid to go this route if your heart is in it. These dresses would also go well in the event you have bridesmaids who are pregnant. The patterns extenuate her belly and make her look as beautiful as possible.
6. Black



SHOP THIS LOOK: Sequined Floor Length Gown Sweetheart Mermaid Bridesmaid Dress
Black is timeless. Whatever the season you will be having your wedding, you can count on black to look sophisticated and unique. A beautiful black dress is always sexy whether full length, short dress or whichever neckline of your choosing. 
Black bridesmaids dress can beautiful for a variety of locations from the country-side to the city. The fabric of the dresses will help to capture the right tone. If your wedding has more of a casual tone, cotton and linen designs would be the right fit.
The dress shown above is possibly best for the reception party. The A-line silhouette is perfect for all body types and can go great and it gives a playful, shiny addition to the wedding. Its all about sparking joy and injecting some glamour to the celebrations. 
Styling your wedding around black dresses is easy because they go with any color of flowers. The classic black and white is palette can never go wrong but do not be afraid to add more colors. Bright and bold bouquets are the current trend right now so feel free to experiment and go wild!
We at Solid Charm are here to support you in your choices and journey. Feel free to contact us on any of our social media sites for further information or guidance.