From Veil to Vows: Essential Bridal Must-Haves for Your Dream Wedding
April 10, 2023

Melody Mburu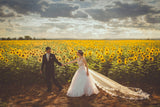 Even if you are not an overthinker or a person who overly prepares, having an item checklist on your wedding day must-haves is something you cannot afford to miss. Wedding planning is a time-consuming, stressful, and overwhelming yet extremely beautiful process. That being said, our experts at Solid Charm came up with a good list of bridal essentials you can check off as you pack for your wedding.
Bridal Attire.
Wedding dress
The most important thing a bride has to have on her wedding day is definitely her bridal gown. We would advise having your gown with you at least a week before the wedding day. Make sure to first, check to make sure the dress you have is the one you chose for yourself. 
Inspect your dress for any imperfections that may have occurred during transport. Last but not least, fit the dress to confirm that you still can fit in the dress well just as you did when you were shopping for it. Walk around and get comfortable in your wedding gown, and picture yourself in it, this will also help with any nerves you may have.
     2. Shoes
Now that you have your gown, have the accompanying shoes with you as well. If you chose to wear heels to your wedding, practice walking with them especially if you do not wear heels often. Put on some music, and hopefully with a friend, and practice your walk. 
You will also need to have different pairs of shoes apart from your heels for the reception and your wedding ceremony. You could have shoes for the walk down the aisle, one for wedding images, one for the reception, and another for the after-party. If you are planning to walk around a lot or dance all night, have a shorter more comfortable heel to move around.
Remember to pack all these items in advance in a suitcase and put them safely. We advise one week prior to the wedding.
     3. Undergarments
You have chosen your gown and shoes and to tie the look together for perfection, you need the right undergarments. Choose a well-fitting strapless bra that holds everything together nicely, and get spanks so you can have beautiful curves on your dress.
Beauty Essentials
Skincare routine for the perfect bridal glow.
A bridal skincare routine is something to schedule a few months before the wedding to get your skin glowing. You may start by visiting a skin doctor who will explain your skin type and let you know what products to look out for. A skincare routine that works for you can have long-term health benefits for you.
Schedule regular facial appointments with professionals. They can help with unclogging your pores, detoxifying and improving the blood flow on your skin, and providing essential nutrients. Doing a cleanse twice daily is a must, use a gentle cleanse in the morning and a double cleanse at night. 
On your wedding day, you will probably have a make-up artist who will do your make-up and be close by for a touch-up. However, it is always good to have some backups. Include facial mist, mini-lipstick, mini-size body lotion, a pair of tweezers, eye-lash glue, and maybe makeup remover in case of makeup smudges.
     2. Tips for long-lasting makeup on the big day.
On the day before, pamper you and your bridesmaids so you can have a blank slate for your makeup the next day. Exfoliate your skin and remove any dead skin. You can do a cleanse and moisturize but do not use a mask as it may reveal blemishes instead of covering them. 
Designate a beauty buddy. This may be a bridesmaid, a family member you can trust, or a close friend who you trust to watch over you. This person is meant to carry your pocket mirror, lipstick, and any other things you may need. 
Choose matte makeup, it wears off less easily and hence last longer. Taking into account that you may have a lot of shiny items on your person, the matte will remove distractions from your face. In addition, use waterproof mascara. You will definitely be emotional and you will want your mascara working for you, not against you.
Think about your hair as you do your make-up. Get a hairdo that has most of your hair held in place so you are not constantly brushing it away from your face and potentially touching your face. DO NOT wash your hair on your wedding day. 
Emergency Kit
This list may seem absurd, but trust us because we have seen it all. There is a lot that can happen on your beautiful big day and having the essentials to manage any crisis will help. 
Sowing kit - You never know what will get loose or torn so having a repair kit close is wisdom.
A first aid kit - A wedding day emergency aid kit should cover any kind of medical needs that may arise. From painkillers in case of headaches, upset stomach medicine, anti-histamines for allergies, band-aids for scrapes and bruises, etc. 
Double-sided tape - Wardrobe malfunctions may happen and this tape will be useful to hold things in place and get you ready always. 
Straws - Yes, I know. This is not a usual find on the bridal survival kit yet it is very important. You want to avoid lipstick smudges while keeping the bride well-hydrated.
Mints and travel mouth-wash - You may not be worried about your breath, but you will be greeting and hugging a lot of people and it would be nice to have the confidence of fresh breath. 
Intimate essentials - Wedding day stresses may bring your monthly visitors suddenly. Pack your tampons, sanitary towels, and panty liners. Better safe than stained!
Deodorant or perfume - Prepare for sweating odor that may occur. Your wedding dress may be hotter than expected and you will want to maintain a fresh scent.
Other must-haves
You may not necessarily fill up before your ceremony and days start, but you should plan snacks that you can take during the day. It is a common occurrence that the bride and groom will skip meals because of the hassles of their big day. 
We do not want you to faint or get headaches due to low blood sugar. Have dry nuts and granola bars for sustenance before you can have a proper meal. Have a water bottle close to you at all times and get enough hydration. If there will be alcohol, hydrate more than you normally would so you may have total control over your day.
Have someone you trust handle your wedding gifts. You will be busy interacting with people and there are always thefts at weddings. Protect your assets by involving a good security team. I do not mean actual muscle, but family members or friends who will take care of you. Above all, have fun, enjoy your wedding. We are rooting for your family!!