The Ultimate Guide to Wedding Venue Size | Finding the Right Fit for Your Dream Wedding
April 11, 2023

Melody Mburu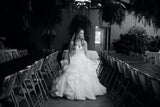 The wedding venue sets the tone for the entire event and creates the atmosphere and mood of the day, which makes choosing the right venue of the utmost importance. Guest experience logistics, venue size, location, and amenities are critical factors to consider when planning your big day.  
In this article, we will explore how to choose the right wedding venue size for you, and what to consider. 
Determine your guest list
We have listed the guest list as the first priority because of the African saying: 'People make the event', especially for a wedding. Choosing a guest list is not easy. It is exciting to want to invite everyone you know if you are a social bug, or leave out everyone if you are an introvert.
You can start with your definite must-have guests. These are people you cannot imagine getting married in their absence. The best part is these people are already at the top of your mind so this should be easy. 
Second, family and close friends. Although this list may coincide with your definite must-have guest list, still include those friends who have been close and maybe out of charge. Once this step is done, you are left with distant relatives, your parents' guests, plus ones, and whether or not you will want children at the wedding.
Determine your maximum capacity. Once you have an estimated guest count, you can set boundaries on the plus ones or children. Start reaching out to venues you are interested in which will give you an idea of what venues can accommodate you. 
Be flexible to trim down your list if whichever venue you choose does not fit or choose an alternative location. Use RSPVs to keep a final headcount. Reach out to potential guests to have an idea of who will definitely be coming, and who would not come.
      2. Consider your wedding style
The wedding style you choose will be a significant determining factor in the size of the wedding venue you will need. A formal wedding such as a black tie event would require a large space that would accommodate a grander affair. That would mean getting a ballroom, or an elegant mansion with high ceilings and a large dining room.
Intimate weddings on the other hand do not require a large space. You can go with a garden, someone's backyard, a rooftop with a nice view, or even a restaurant. Such spaces create a warm, intimate, and cozy atmosphere for your needs.
Themed weddings are more diverse as they can vary in size depending on the theme you choose. A perfect example would be a fairytale-themed wedding. This would require a castle or large mansion to create the desired effect. Even though you can try to do a budget theme on the fairytale, your space would still be significantly larger than the intimate wedding.
Another style to consider is the type of reception you would want. Are you having the reception at the same location as the wedding? Some locations accommodate both events while some would ask you to do an offsite reception. You may also choose to have a standing and seating reception which will also affect your decision on venue size.
       3. Venue layout and capacity
The layout and capacity of the venue will impact your decision. Venues with awkwardly shaped spaces may not manage to accommodate as many people as an open floor plan would. The layout will also affect the flow of the event and the ease of movement and staff. Ensure that you have clear entry and multiple exits for safety and fire protocols.
The seating arrangement you choose will also affect the size of the venue. Your choice of tables, round or rectangular is also an affecting factor on size. Round tables take up more space than rectangular with their traditional ballroom-like feel. They will rake more space but they also seat more people than rectangular or long tables.
The capacity of the venue is a critical factor to consider. There are venues that will be very specific about the number of people they can accommodate which will help determine your guest list. Have in mind to ask for space for amenities such as photo booths, a bar area, and other activities if you intend to have them.
        4. Budget
At every step of planning a wedding, we have been insistent on making sure you have locked your budget in. It is no different for your wedding venue. The budget will control how many people you invite, the size of the venue, the style, and the décor of the wedding.
Large venues are more expensive but they offer more options for your wedding in terms of spacing. In the event that you have a limited budget, you can choose a smaller venue. Consider a venue that offers customizable packages that can help keep costs under control while still meeting your needs.
The size of the venue is not the only parameter that affects cost. Amenities, location, demand, and the services that are provided are other important factors. Consider every option that is possibly offered in the venues you research. Employ the help of a wedding planner as they have connections with venue managers and visit every venue you may be interested in.
        Conclusion
To wrap up, selecting the ideal wedding venue size is pivotal for the triumph of your wedding day. It is essential to evaluate your guest list, planned activities, venue layout, capacity, availability, and budget. By accounting for these factors, you can guarantee that you and your guests relish a remarkable and enjoyable experience.