How to Use Social Media For Your Wedding
July 22, 2023

Melody Mburu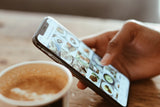 In a world of instant gratification where content is King, using social media at your wedding can be the way to go. Sharing our lifestyles and important moments in real-time is where all the hype is about. Therefore, what better event to curate content for than your wedding? Planning for a beautiful wedding event and not having it well documented would be a shame. Plus, you no longer have to wait weeks to get the footage from your wedding!! In this article, we will answer all questions about social media usage for weddings.
How to Use Social Media 
For starters, you can hype your wedding event early in advance. By taking your audience on a journey of your love through your dating life to engagement and now wedding, you create a narrative people can fall in love with. Document that journey and share behind-the-scene moments and sneak peeks into emotional moments. 
People respond to real emotions. They want to see the beautiful and the ugly to judge you as authentic. Also, you can engage your audience by creating a unique hashtag that reflects both your personality and wedding theme. This can help you collect all the wedding content in one place for future reference. 
Get inspiration from other newlyweds and even join discussion forums on whatever problems you may have at hand. Social media can be a haven of information and the best place to find a community of people sharing the same challenges. 
Another way to use social media is to announce your engagement. Facebook has given a provision where you can change your relationship status. Such a site is perfect to announce your engagement status and celebrate with those who follow you. You can also create a short video or use the Instagram stories feature to add a personal touch to the announcement.
Send out Save-the-Date announcements to those in your circles using a post or even create a group of those you will send out your wedding invite. Mostly, this method is for Gen-Z and millennials who are always on their phones and that is the quickest way to get this information out. However, you may still need to use either email, a physical invitation card, or even call and text. Do not let social media be your only method of information.
Share pre-wedding events such as bridal showers and get that hype going! Include your audience in your journey and allow those who may miss out on your wedding day to feel part of your wedding.
How To Announce Your Wedding On Social Media
It can be a scary or exciting moment when you decide to announce your wedding on social media. Choosing the right moment to announce your engagement will make it even more special. Avoid days that have a lot going on such as holidays to get that social media track. Use a day that is special to you such as the day you met or a day with sentimental value.
Another thing to consider is your choice of photo to accompany your announcement. Choose an image that captures your love and happiness. Create a heartfelt caption underneath the photo and tag all the people you want to be notified of your post. Include essential details such as the date, venue, and any other relevant information you can share at that time.
You can also go live! Although, this is entirely a personal decision. Remember to respond to well-wishers and also reach out to vendors as soon as possible. Take time to thank them for their well wishes. 
What Is The Etiquette Of Using Social Media For Your Wedding?
It is easy to over-step boundaries when it comes to social media. The excitement to post and share what is going into your life can make you overlook some fundamental things. First, mind the privacy of others. Whenever you share content on your social media, it is good manners to ask whoever is in your shot for permission to post them. 
If you are using a social media manager to document your actual wedding, have clear communication with your guests that they are being filmed. Also, ensure to instruct your social media manager on what you require and on occasion ask for final approval before posting. Now that I have mentioned using a social media manager, it can be a better idea to use a social media manager but we will get to that better.
As a guest at a wedding, check for whatever information is given by the couple on the usage of social media. They can either ask you to post a lot to gain hype or have a social media blackout. If there is a social media blackout, try your best not to create spoilers. Also, avoid posting negative or inappropriate posts that have controversial content about the wedding. Social media is a public space and negativity can affect the general vibe of the wedding event.
Have someone apart from the couple moderate comments and ensure nothing that can affect the wedding reaches the couple, at least on the wedding day. Ensure positivity and a respectful atmosphere for the wedding couple. Last but not least, always thank your guests and acknowledge your audience always. 
Conclusion
Using social media in any aspect of your wedding preparation is a personal choice. Make it an authentic expression of your love and joy. By following social media etiquette guidelines, you can ensure that the wedding experience is enhanced for all involved, respecting privacy and maintaining a positive atmosphere of celebration and joy. Enjoy the outpouring of love and best wishes from your online community and use all the positive social media parts to enjoy your wedding journey.