How To Deal With Bad Weather At Your Wedding
July 20, 2023

Melody Mburu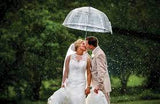 Outdoor weddings are absolutely adorable and they are my all-time favorite kind of wedding. However, in all good things, there are challenges that should be anticipated and planned for. Changes in weather can affect the general mood of your ceremony. With a touch of creativity and finesse, you can navigate whatever challenges are thrown your way. In this article, we will go through tips to navigate "bad weather".
Rain On Your Wedding
Whether it's a heavy downpour or light drizzle, there is no point in letting rain ruin your ceremony. So first things first, what do people believe rain means at a wedding? For the Hindus, they believe that a rainy wedding is a sign that the marriage will last longer. For some, the rain at a wedding shows a fresh start for the newlyweds. It can also represent fertility, fortune, and abundance. In short, rain is a sign of good luck.
Tips To Handle Rain Changes
Be Prepared
Rain showers are often the primary issue for outdoor weddings. Therefore, the only thing that you can do is prepare in advance. Check out the weather forecast beforehand and speak to your wedding planner about what weather to anticipate. When thinking of protection against extreme weather, speak to your venue manager about what they have to offer. Does your venue package come with a plan in case of rain?
Another option is to rent a tent and have the personnel on standby in case the weather changes. A good team can help you change fast so you do not waste a lot of time in the day. Also prepare your clothes by having umbrellas, raincoats, and boots to change into close to you.
What about extreme heat and windy weather? When it is really hot, ensure your guests have water in close vicinity to them. You can also have a station with provisional paper fans for your guests. It is also a good idea to have first aid personnel on your site in case of any medical emergencies. As for windy weather on locations at the beach, ask for an indoor option in case it is too windy.
Trendy Solutions to Rain
If it rains at your outdoor wedding, there are stylish solutions to mitigating this weather change. Clear tents have made a big splash in weddings, offering both protection from rain and preserving the natural beauty of the venue. These transparent coverings create an enchanting atmosphere and allow your guests to admire the outdoor setting. Another popular accessory is a clear umbrella. One can get extremely cute pictures with bridesmaids and umbrellas.
Balance Aesthetics with Backup Plans
Maintaining the aesthetic appeal of your outdoor wedding while preparing for potential weather issues is crucial. One can incorporate weatherproof elements into your decor. An example is using beautiful drapes that can be decorated while also protecting from strong winds and rain showers. Additionally, consider embracing weather-inspired details such as water-resistant decor and signage. These small changes can enhance the general vibe of your wedding. 
Talk to your vendors
It is crucial to have a team of professionals that are good at adjusting their plans at a moment's notice when it rains on your wedding day. An outdoor wedding is basically planned with the events of the day planned outside. You will need to talk to your caterers, photographers, and florists about this fear and trust them to handle the matter. Remember, they have more experience at weddings than you do. 
Create a communication plan for your visitors
In the event that the weather forces a change of plans, clearly and timely communicating with your guests is crucial. Use communication channels that are used by everyone on your guest list to promptly give detailed instructions. Keep your guests informed and reassured that you have everything under control. You can choose to include a guide on what to do in case of a weather change in a newsletter for your wedding.
Wedding Insurance
Lastly, we can talk about wedding insurance. Insurance policies for weddings have evolved to address weather-related concerns. When you are selecting coverage options, carefully review policy details with your insurance provider paying close attention to detail. Look at the provisions for rescheduling, venue changes, or vendor cancellations caused by changes in weather conditions. Ensure that you discuss any and all questions you may have about protection.
Conclusion
Planning an outdoor wedding will require careful consideration of all things that could go wrong. Potential weather issues are a risk for outdoor weddings but with thorough preparation, and creative solutions you will have a great day. Embrace the unexpected, prioritize guest comfort and safety, and explore trendy solutions to ensure your wedding is still beautiful and unique. Embrace the good luck that comes with rain on your wedding, and keep a positive attitude throughout your day!