Creating A Wedding Registry Your Guests Will Love
July 26, 2023

Melody Mburu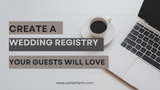 Creating a wedding registry is the fun part of wedding planning. Shopping is exciting, and the thought of having new stuff is exhilarating. However, having many options and choices in this modern age can easily become overwhelming. Worry not! In this article, we will share with your pro tips on how to create a wedding registry that is effective, fun, and unique.  
Start Early
Begin creating your wedding registry early. Unlike what people think, starting to plan for your wedding registry after your engagement is not too early. It is a perfect time. Once you have shared your engagement news, plan your registry with your partner considering what you need and want.
Prioritize Essential Items
Think about what you will truly need to start your life. There are general needs but do not be afraid to be unique. You can always ask for household items such as kitchen appliances, cookware, bedding, and other essentials. Do not be afraid to be unique to match your personality. 
Match your Personality
If you do not care for normal household items, you do not need to add them to your registry. Consider your lifestyle, your hobbies, and interests, and include them in your registry. If you enjoy outdoor activities, add camping gear or sports types of equipment.
Diversify Price Ranges
Allow your guests to choose among various price points to accommodate the financial capabilities of all your guests. Accommodate everyone's budget to create inclusivity for everyone. This way, everyone can find something they can afford and feel comfortable gifting.
Use an Online Registry
For easy and constant access to your registry, have an online registry that your guests can view. Make it user-friendly and that allows you to add items from various stores. Such a setup makes it easy for your guests to access and purchase gifts.
Choose Multiple Registries
Having a registry with a variety of price ranges, it can be a good idea to also create multiple registries. This is meant to accommodate different needs and interests. You can have a registry with a huge retailer such as Amazon and also include a registry with a smaller retailer with personalized items. 
Include Group Gift Options
If you have high-priced items on your registry, include an option for your guests to gift you as a group. This way, you give people an option to come together and give you something valuable and worthwhile. 
Put an Option for a Cash Fund
It has become a normal occurrence now to have a wedding cash fund for the people getting married. Some of your guests may prefer this option over buying you a gift that you may not need. It's better to offer them a fund option where they can support you in that way.
Dont Forget to Share
Last and most important of all, share your registry in a tactful way. It is considered polite to include the wedding registry on your wedding website or by telling your guests through word of mouth. Do not include it directly on the wedding invite. Such a move may feel like a forced suggestion to contribute to the registry and you don't want that.
Always appreciate your guests for their thoughtful gifts using thank-you notes. Let them know their contributions are genuinely welcomed and valued. 
Conclusion
After all, is said and done, the most important tip of all is to have fun and make the process easy for your guests. Keep your guests' preferences in mind and curate a diverse list. This way, you can create a wedding registry that is both enjoyable for your guests and beneficial for your new life together as a couple.