Dress Your Body Type: Ultimate Guide To Men's Suits 
July 28, 2023

Melody Mburu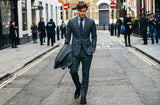 Everyone has a different body type. What may look good on one man may not work for you at all. Have you ever tried to replicate an amazing and instead of looking great, you end up utterly disappointed? It may not be entirely your fault. Your body types are probably incompatible and what works for him does not work for you. 
For most people, wearing a suit is a special event and not an everyday dressing option. Therefore, finding a suit that perfectly fits is like finding the perfect song for the perfect occasion. You immediately feel taller and more handsome! In this article, we will delve much deeper into how to dress for your body type.
TALL & THIN BODY TYPES
It is easy to pick up a slim-fitting suit with today's fashion, but there are things to consider. The key is to find a suit that shows off your height and your slim fit. 
What To Avoid
Avoid suits that are too slim. You will need a little room for the necessary drape and balance out your proportions.
Avoid pinstripes but you can go with checked or a glen plaid fabric. Patterns add girth which is perfect for this body type.
Keep your pockets straight and use a pocket square to complete the look.
Avoid short-length trousers.
What to Choose
A two-button, tailored suit is the way to go. The slim, higher lapels add girth to your shoulders where you can move freely. Tailor-cut your trousers so they taper slightly down the leg just clipping at the top of your shoe. A longer jacket can be slimming while a shorter jacket can be lengthening. What you want is a jacket that is mid-length, just covering your behind. 
HEAVY BODY TYPES
For heavy guys, fit is more important both in comfort and presentation. Your tailor will be your best friend and go-to guy. Choose a slightly longer jacket that will visually elongate the body. A deeper button stance will create a strong "V" shape to accentuate your chest and mask the belly.
Avoid wearing a belt and instead, use suspenders. Cut your jacket as trim as possible at the stomach without pulling or discomfort. Keep your jacket buttoned as often as possible. Ensure your trousers don't sit too high or too low.
 A regular fit suit is perfect for bigger men. Take your time, try on different sizes, and choose the size that you feel most comfortable in. Avoid double-breasted and heavy-patterned suits, as well as ill-fitting suits that are too baggy or too tight.
SHORT BODY TYPES
For a shorter man, avoid double-breasted suits. Shorten the jacket a little and it will lengthen your leg line to create an illusion of height. Keep the sleeves trim as possible and the sleeve length no longer than the base of your thumb knuckle to be safe. Have the trouser rise low and the legs slim and tampered with a very minimal break, or no break at all.
Stick to dark and sleek fabrics. Keep your shirt collars narrow and ties slim. Opt for a slim or tailored fit. A one-button jacket keeps the suit in balanced proportion and allows for a deeper stance. Give off the illusion of height.
MUSCULAR BODY TYPES
A comfortable, regular-fit suit is the right choice. The points to be most considerate of are the biceps, shoulders, and forearms. Use the smallest shoulder pad or nothing at all. Since you have bigger muscles, use heavy durable cloth and reinforce the seams where you typically have pulling. 
Include room in the hips, thighs, and calves. A little flow in the trousers is elegant and balances out your larger top half. Plain suits are stylish but also consider bolder prints as well. 
Conclusion
Remember that these are general guidelines and your personal style preference should play a role in your selection as well. While considering these tips for different body types, feel free to mix and match suit elements. Don't be afraid to mix and match suit elements to achieve a look that suits your individual tastes and preferences. As mentioned in the article, always rely in a professional tailor to make any necessary adjustments to your suits to ensure they fit perfectly to flatter your body type.