How to Buy a Suit Off The Rack for Your Wedding
August 02, 2023

Melody Mburu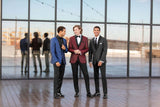 One of the most frequently asked questions is Can I Buy a Suit Off the Rack? I have both good and bad news for the answer here. You can find a suit to fit you off the rack, but that suit will never be as good fitting as a tailor-made suit. Depending on your budget for your wedding suit, you can find one that fits handsomely, especially for your wedding, by considering a few facts. 
Off-the-rack suits are made with generic body types in mind such that they are easy to buy and always available. Therefore the struggle to find a suit is a real problem. Most people do not have a generic body type. You may end up with clothes that are some sizes too big and you may think it is the perfect fit. In this article, we will look at how much they are sold, their fit, and what to be aware of.
Price of Off-The-Rack Suits
Due to the materials used and the wide variety of sowing techniques, the price of an off-the-rack suit can cost from 150$ to upwards of $2000. At solid charm, we have very well-priced suits that will fit your budget. That being said, we advise that you do not spend more than $600 on an off-the-rack. 
Focus On The Fit
The first rule of all men's clothing is to take note of the fit. Before going to buy a suit, get your measurements from a tailor so you have a range of sizes to look at. There are five areas that make a great suit; shoulders, collar, sleeve, length of the jacket, and jacket closure. 
Shoulder Fit
The jacket should lay flat across your shoulders, and the seam should end where your shoulder naturally ends. If it's too small, you may have trouble moving. If it is too big, you will end up looking terrible.  When the suit is too big or boxy around the shoulder, ask for a size or two down and try different designers. 
This is the most important part of the suit's fit. Everything else can be tailored but the shoulders have to be perfect. If you will take away anything from this article, let it be this. Shoulders have to be perfect!
Collar Fit
A collar gap is one of those things you just can not unsee. If you have a wide upper body or an athletic build. This gap can be caused by various reasons that can be adjustable. A flawed fit in the chest or shoulders, or even a jacket cut too short can cause the collar gap. 
Incorrect posture like having a slouch while wearing a jacket meant for a straight back will have a collar gap. Make sure this part fits. Though it is not impossible to fix, you will pay an expensive amount to get it fixed. 
Sleeve Length
For the optimal shirt sleeve length, let it fall about a quarter to half-inch short of your shirt sleeve. The jacket sleeve can be too long because it is cheap to alter. Some say the shirt should be at the base of your wrist, while others have a different opinion. I think the right length should be between the knuckle of the thumb and the wrist bone just above the start of your palm.
Jacket Length
The basics dictate that the jacket should at least cover your behind. Such a length would be confirmed by the length hitting the area around your thumb knuckle.
Jacket Closure
The jacket should not be noticeably pinched or stressed. You want to be able to close the jacket with just the right amount of waist suppression. You can buy a jacket that is a little large on the waist, and your tailor can work fixing this part easily. The jacket should not feel constricting, but you also do not want yourself swimming in it.
What To Be Aware Of
Try out different designers as they have different fittings of jackets and trousers. Consider the fabrics and how it feels on your skin. There are summer/spring fabrics and fall/winter fabrics. Summer fabrics are light and breathable, while winter fabrics are heavier and warmer. It's important to know the difference and dress in accordance with the season. Have functional pockets on your suits. It may seem like a small detail but it makes a big difference. Make sure to check out our suit section, and find something that suits you. Chao!