How To Elope: Escape The Hussle Of Wedding Planning
August 07, 2023

Melody Mburu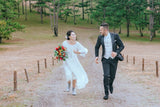 Imagine the relief you would get if you and your partner escaped the culture of considerable wedding planning and just eloped. Amazing, right? Eloping has quickly become a popular and intimate way for couples to celebrate their love. However, in the past, eloping has had an air of unpreparedness and messiness. This article will walk you through the essential steps to properly execute a memorable elopement.
Is It Cheaper To Elope?
It can be cheaper to elope than to have a normal wedding with all the aspects of planning. When counting the cost of your wedding in regard to your guest count, your overall cost on vendors goes down. If eloping in your world means running off to a courthouse, and getting married, then your entire wedding may cost less than $500.
However, if your elopement plan is more classy and sophisticated, more planning must be done. Here are six major steps on how to elope hustle free.
Determine a Budget
You need to determine your budget even when you decide to elope. Despite having more flexibility in planning, there are logistics to consider. Your elopement style will determine what kind of wedding you will have. Agree on a base total amount of what you would like to spend. Setting a budget helps you organize and prioritize what you need for the wedding. 
Choose your attire and accessories
Part of your budget is to determine what the bride and groom will wear, and the wedding party if you decide to have one. The cost of the wedding attire should be included in the wedding budget. One important thing to consider when choosing your attire is the kind of weather you can expect at your venue. 
Another consideration to make when choosing your attire is knowing the activities you plan to do at your elopement. Know your season and how to dress for it. For winter, make sure your clothes are long-sleeved, choosing thicker fabrics for that warmth. For a summer wedding, choose lighter fabrics that won't have you sweat through your ceremony. If you're planning your wedding for a more outdoor adventure, make sure to wear clothing you can easily move in.
Decide who will attend your elopement
As for the guests, an elopement does not have clear rules on whether to include guests or not. This is a decision that is to be made by the bride and groom. If you choose to elope in secret, that would mean no witnesses from close friends and family. 
However, that does not necessarily mean you shouldn't or cannot include your family. They can write you letters to read or create videos wishing you a happy marriage which you can then watch or read during your ceremony. You will still get an amazing ceremony to celebrate your love. 
If you decide to have an intimate ceremony with a few guests, you will still have an amazing time. Being surrounded by the people you love most is a powerful thing to have on such an important day. Therefore, you cannot go wrong if you decide to have guests or you decide it's just the two of you.
Research your wedding location
Researching where you want to elope and have your wedding is one of the most important things to do. Where have you dreamt to have your wedding? Is it a mountaintop, a beach, or even maybe an indoor event in Vegas? Deciding what is most important to you in the location will help with what to look for.
Deciding the view you want for your wedding is a great place to start. Depending on your personality and what you can afford, take care of the background, the view, and the vibe you want. If your chosen venue is a tourist spot, avoid having your wedding during the weekends. 
Book photography and videography
Once you have a general idea of where your wedding will be held, you now need to think about photographers and videographers. Since an elopement wedding is intimate, choosing your photographers will be largely influenced by their personalities. You will need someone who you are absolutely comfortable with and whose presence does not cause you anxiety.
If you decide to elope last minute, have your friend or close confidant accompany you and become your photographer/videographer. With the camera technology in cell phones now, an iPhone can do the work of a videographer if it's held by steady hands.
Plan for travel and accommodation
Last, but not least, your travel and accommodation will be based on the venue that you choose for your wedding. If you are having your wedding at a destination, then you will need to make arrangements for accomodations. Airbnbs are more affordable and intimate than hotel rooms. Find an airbnb with ambience and romantic vibes. 
Think about your transportation for flights, rental cars and ensure to have a map if you are in a foreign country. If you have guests, make arrangements for them as well. Read about the rules of the country, get the necessary documents youll need as well, just to ensure everything is prepared.
Conclusion
Eloping is a great way to have your wedding you want and have dreamt of. Its personal and intimate. An elopement is still a wedding and should be taken on with the speciality it deserves. Get a dress, bouquet, and even a reception party for just you and your partner with guests if you have them. At SolidCharm, we are able to give you everything you may need in terms of attire delivered to you anywhere on the planet.