Best Wedding Songs For Your First Dance
August 10, 2023

Melody Mburu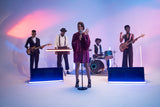 For a day about celebrating love and the beginning of a life with your partner, the perfect song ties it all together. Music connects memories and adds flavor to all aspects of life. Choosing the right track, however, can be a source of much debate between soon-to-be-wed couples. There is an extensive range of genres to choose and all you need to do is to be true to yourself. 
Your first dance song can be quick if that is not your vibe. It can be upbeat or even vintage. It is not common though for people to choose the trending song at the moment. Therefore, in my list, ill share songs from various years with meaning and distinctiveness. 
Perfect - Ed Sheeran 
Romantic Lyric - "But darling just kiss me slow, your heart is all I own, and in your eyes, you're holding mine"
Better Half of Me - Tom Walker
Romantic Lyric - "Don't need to spend our lives chasing gold, Anywhere with you, I'll call my home, oh I'd have all I need"
All of Me - John Legend
Romantic Lyric - "Cause all of me, Loves all of you, Love your curves and all your edges, All your perfect imperfections"
Make you feel my love - Adele
Romantic Lyric - "I've known it from the moment that we met, No doubt in my mind where you belong"
I Won't Give Up - Jason Mraz
Romantic Lyric - " I won't give up on us, Even if the skies get rough, I'm giving you all my love, and I'm still looking up."
A Thousand Years - Christina Perri
Romantic Lyric - "I have loved you for a thousand years, Ill love you for a thousand more"
Say You Won't Let Go - James Arthur
Romantic Lyric - "But I wanna stay with you, Until we're grey and old, Just say you won't let go" 
At last - Etta James
Romantic Lyric - "At last, My love has come along, My lonely days are over, And life is like a song"
Love on the Brain - Rihanna
Romantic Lyric - "Don't you stop loving me (loving me), Don't quit loving me (loving me), Just start loving me (loving me)"
You're Beautiful - James Blunt
Romantic Lyric - "You're beautiful, it's true, There must be an angel with a smile on her face, When she thought up that I should be with you"
Like I'm Gonna Lose You - Meghan Trainor and John Legend
Romantic Lyric - "So I'm gonna love you, Like I'm gonna lose you, I'm gonna hold you, Like I'm saying goodbye, Wherever we're standing, I won't take you for granted"
Love Someone - Lucas Graham
Romantic Lyric - "Cause when you love someone, You open up your heart, When you love someone, You make room"
Bless The Broken Road - Rascal Flatts
Romantic Lyric - "Pointing me on my way into your loving arms, This much I know is true, That God blessed the broken road that led me straight to you"
You Are The Reason - Calum Scott
Romantic Lyric - "I'd climb every mountain, And swim every ocean, Just to be with you, And fix what I've broken, Oh, cause I need you to see, That you are the reason"
There is No Greater Love - Amy Winehouse
Romantic Lyric - "There is no greater love, Than what I feel for you, No sweeter song, no heart so true"
Everything - Michael Bubble
Romantic Lyric - "And in this crazy life, and through these crazy times, It's you, it's you, you make me sing. You're every line, you're every word, you're everything"
One In A Million - Rex Orange County
Romantic Lyric - " My heart keeps driving me crazy, There's nothing much I can do, I'm aware, There's no one quite like you, You're one of one, one in a million, whoa"
Nervous - John Legend
Romantic Lyric - "When you walk through the door and you look in my eyes, Yeah, it feels, yeah, it feels like the very first time"
All my Love - George Ezra
Romantic Lyric - " All my love is yours, All my time is ours, All my reckless dreams and All my restless hours"
I'm Yours - Jason Mraz
Romantic Lyric - "But I won't hesitate, No more, no more, It cannot wait, I'm yours"
Can't Help Falling In Love - Elvis Presley
Romantic Lyric - "Wise men say, Only fools rush in, But I can't help falling in love with you"
If I Aint Got You - Alicia Keys
Romantic Lyric - "Some people want diamond rings, Some just want everything
But everything means nothing If I ain't got you, yeah"
Kiss Me - Ed Sheeran
Romantic Lyric - "And your heart's against my chest, your lips pressed to my neck, I'm falling for your eyes, but they don't know me yet, And with a feeling I'll forget, I'm in love now"
Adore You - Harry Styles
Romantic Lyrics - " Honey, I'd walk through fire for you, Just let me adore you"
Conclusion
Weddings are one of the most romantic moments in life and music is the glue that ties everything together. I hope one of these songs has meaning to you and you are able to use them. Remember the song you choose should have meaning to you years from now. I can only imagine when you are old dancing and still enjoying the song you choose for your wedding. Chao lovebirds!