Your Ultimate Guide to a Planning a Destination Wedding
June 22, 2023

Melody Mburu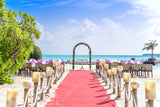 Who doesn't dream of a wedding that is not only filled with love, but also set against the backdrop of a breathtaking location? Destination weddings have become the epitome of romance and adventure, captivating couples worldwide. In this article, we will take you on a journey through the enchanting appeal of destination weddings, why they have a special allure for young couples and those with higher budgets, and introduce you to Solid Charm, your go-to destination for exquisite wedding accessories that will add an extra touch of elegance and charm to your big day.
Choosing the Perfect Destination
Picture this: stunning landscapes, pristine beaches, majestic mountains, or even historical landmarks. When it comes to selecting the perfect destination for your dream wedding, the options are endless. Let us look into some of the things you will need to consider.
Scenic Beauty
Why settle for the ordinary when you can have the extraordinary? Look for destinations that offer awe-inspiring backdrops that will take your breath away. Imagine exchanging vows against the backdrop of turquoise waters, dramatic cliffs, or ancient ruins. Let nature's beauty set the stage for your love story.
Accessibility
While you may be dreaming of a far-flung location, it's important to keep accessibility in mind. Ensure that your chosen destination is easily reachable for both you and your guests. Consider flight connections, transportation options, and visa requirements to make sure everyone can join in on the fun without too much hassle.
Legal Requirements
Love knows no boundaries, but the law does. Before you commit to a destination, it's crucial to understand the legal requirements for getting married there. Research the marriage laws, permits, and documentation needed to make your union official. After all, you want your love story to be both magical and legally recognized.
Popular Destinations
Some destinations have already earned their reputation as perfect wedding spots. Think of the romantic allure of Santorini, the exotic charm of Bali, or the breathtaking beauty of the Riviera Maya. These destinations have become favorites among couples seeking an unforgettable wedding experience. They offer a plethora of stunning venues and services tailored to make your special day truly exceptional.
Planning and Logistics
Now that you've chosen your dream destination, it's time to dive into the nitty-gritty of planning your magical celebration. Here are some key steps to make the process smooth and stress-free:
Start Early
Planning ahead is the secret ingredient to a successful destination wedding. Give yourself plenty of time to secure your dream venue, accommodations, and vendors. Starting 12 to 18 months in advance will ensure you have a wider range of options and alleviate any last-minute planning frenzy.
Hire a Wedding Planner
Planning a wedding from afar can be daunting, but fear not! A local wedding planner with expertise in destination weddings will be your ultimate ally. They'll take care of the logistics, connect you with trusted vendors, and ensure every detail is perfectly executed. Sit back, relax, and let the professionals handle the magic.
Guest Considerations
Remember, your loved ones will be traveling to celebrate with you. Help them make the most of their experience by providing detailed information about travel arrangements, accommodations, and any local customs they should be aware of. Clear communication ensures everyone feels included and can fully enjoy the festivities.
Travel and Accommodation
Take the stress out of travel planning for your guests by offering guidance and assistance. Collaborate with travel agents or online platforms to help them secure flights, transportation, and accommodations that suit their preferences and budgets. By making their journey hassle-free, you'll create a warm and welcoming atmosphere from the moment they arrive.
Key Logistical Considerations
Venue Selection
Choose a venue that matches your wedding vision and offers the necessary facilities for both the ceremony and reception. Whether it's a luxurious resort with a dedicated wedding coordinator, a charming villa with breathtaking views, or a local venue brimming with cultural significance, find a place that feels like a fairytale setting for your celebration.
Local Regulations
Each destination has its own set of rules and regulations. Familiarize yourself with the local marriage requirements, permits, and any specific legalities that need to be taken care of. Staying informed ensures a smooth and stress-free journey toward your happily ever after.
Vendor Selection
Bring your wedding vision to life by teaming up with local vendors who understand the local culture and aesthetics. Do your research, read reviews, and communicate your desires clearly. From catering and photography to floral arrangements and music, handpick the perfect team to make your wedding day dreams a reality.
Weather Considerations
While you can't control the weather, it's wise to be prepared. Research the climate and weather patterns of your destination during different seasons. Consider the typical conditions and have backup plans in place for any unexpected weather surprises. Embrace the beauty of nature, rain or shine, and let it add an extra touch of magic to your celebration.
Conclusion
Planning a destination wedding is an exciting adventure that promises lifelong memories. The allure of a stunning location, combined with the thrill of embarking on this journey with your loved ones, makes it a popular choice for young couples and those with higher budgets. 
As you embark on this enchanting path, remember that Solid Charm is your trusted source for exquisite wedding accessories that will add an extra layer of elegance and charm to your special day. Embrace the romance, dive into the planning process, and get ready for the destination wedding of your dreams. Your love story is about to unfold in the most extraordinary way imaginable.