Etiquette, Technology, and Budgeting For Wedding Guest List
June 20, 2023

Melody Mburu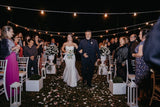 Planning a wedding is an exciting adventure filled with countless decisions. One of the most important choices you'll make is creating the perfect guest list. It's a delicate balance of etiquette, utilizing technology to manage the guest list, and keeping within your budget. In this comprehensive guide, we'll explore the strategies and considerations needed to craft an unforgettable wedding guest list. Let's embark on this journey together and ensure that every guest at your celebration feels special and cherished.
How to Follow Etiquette Guidelines for the Wedding Guest List
Some etiquette rules should be kept in mind when making your wedding guest list. As you prepare for your big day, these guidelines might assist keep peace and respect. 
Prioritize your close family first. These are your nearest relatives, including your parents, siblings, and grandparents. By inviting them first, you are demonstrating your gratitude for their support and affection. Take the venue's capacity into account. You must make sure that the number of visitors you invite will fit in the area without becoming crowded. 
You want everyone to feel comfortable and enjoy the party. Invite married guests, engaged couples, or individuals in long-term committed relationships as plus ones. Offering a plus-one for single guests is optional and is determined by your budget and the capacity of the venue. It's all about fostering an environment that supports your goal, keep that in mind.
It's crucial to strike a balance between having extended relatives and inviting close friends. Think about the connections that are most important to you and your partner. Make an effort to include guests who represent the relationships that are important to you both. Send invites that are communicative. The language should reflect the style of your wedding festivities. Whether it's a small gathering or a bigger occasion, express that verbally. In this manner, visitors will know exactly what to anticipate.
Making the Most of Technology to Manage Guest Lists
Technology now provides useful tools to assist in managing your wedding guest list. Let's look at some doable ways to speed up the procedure. Platforms for managing guest lists online were created expressly for wedding preparation. Such services as RSVP tracking, food choices, and seating assignments are offered by these systems.
They will act as a focal point for organizing visitor data. It will be simpler to maintain organization and prevent misunderstandings as a result. The creation and management of your guest list may be greatly aided by the use of spreadsheet tools like Microsoft Excel or Google Sheets. Make columns for the attendees' names, addresses, RSVP statuses, dietary preferences, and any other pertinent information.
This enables simple tracking and updating as you get feedback from your visitors. Think about how convenient it is to send wedding invites digitally via email or wedding websites. Invitations sent digitally make it easier for guests to RSVP and use less paper. Electronic responses from guests make it simpler for you to keep organized and maintain the guest list.
Apps that handle guest lists exclusively for weddings may be quite useful. These applications include functions like RSVP tracking, guest list organizing, and even budget management. Accept the ease of technology and have your guest list close to hand. Google Drive and other collaboration technologies allow for easy coordination with relatives or wedding coordinators. They make certain that everyone has access to the most recent guest list data. This encourages efficient collaboration and communication.
Ensuring the Guest List Aligns with the Budget
Keeping your guest list under a certain budget needs thoughtful planning and aggressive measures. Let's examine some potent tactics. Decide on your budget at the beginning of the wedding planning process. Set boundaries and priorities early on by allocating a particular amount to the guest list. 
Throughout the planning process, your decision-making will be guided by this financial roadmap. Determine the attendees who must attend your event, regardless of your spending limits. These are the people who have contributed significantly to your life and ought to be present to celebrate your happiness with you.
It might be hard to cut the guest list. Analyze your encounters recently and your connections regularly. Remove some people from your list if you haven't spoken to them recently or haven't developed a close relationship with them. Keep in mind that the objective is to design a celebration that embodies your vision and permits meaningful connections.
If the guest list starts to significantly impact the budget, think about holding a different kind of party. For instance, you can decide on a modest ceremony that is followed by a sizable celebration. In this manner, you may efficiently control expenditures while inviting more people to the party following the ceremony.
Find cost-cutting strategies without sacrificing experience. Instead of a set meal, consider imaginative alternatives such as catering in the form of a buffet. Using a DIY method for components like decorations or favors. These modest changes can significantly impact how effectively you manage your spending while still planning a great event.
Conclusion
Following etiquette guidelines, leveraging technology for effective guest list administration, and remaining within your budget are all important when creating a wedding guest list. You may choose a guest list that accurately represents your vision and produces an amazing celebration for everyone by being aware of appropriate etiquette, utilizing technology and digital tools, and putting efficient budgetary techniques into practice. Accept this changing journey and set out on a wedding journey that is full of love, joy, and treasured memories. Enjoy your planning!