Unique Wedding Reception Meal Styles to Delight Your Guests
May 18, 2023

Melody Mburu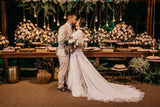 Once you have found your venue, your next choice is the wedding reception meal menu. The wedding reception meal style you choose can add a touch of magic to the celebration. From traditional elegance to casual charm, there are various options to consider. Explore these remarkable wedding reception meal styles that are sure to leave a lasting impression on your guests
Exquisite Plated Sit-Down Dinner
A timeless classic, the plated sit-down dinner offers an elegant and sophisticated dining experience. Your guests will be seated at beautifully arranged tables and served a delightful multi-course meal. With delectable appetizers, mouthwatering main courses, and exquisite desserts, this style is perfect for couples seeking a refined ambiance.
Bountiful Buffet Delights 
Treat your guests to a feast of flavors with a lavish buffet. This style provides a wide array of options, allowing your guests to indulge in their favorite dishes. Whether it's a selection of hot or cold delicacies, your buffet can showcase a diverse range of culinary delights, ensuring everyone finds something they love.
Interactive Food Stations
Add an element of fun and interactivity to your wedding reception by incorporating food stations. Set up various stations throughout the venue where guests can explore and savor different mouthwatering dishes. From a carving station featuring succulent meats to a pasta station offering freshly made pasta with delectable sauces, these stations create a lively atmosphere and cater to diverse tastes.
Charming Cocktail Reception
For a more relaxed and social gathering, a cocktail reception is an excellent choice. Guests can mingle and enjoy a delightful assortment of drinks and tantalizing appetizers. This style works particularly well for smaller weddings or daytime celebrations, creating an intimate and convivial atmosphere.
Celebrate with a Joyful Brunch
Kickstart your wedding day with a joyful brunch reception. Delight your guests with an array of breakfast and brunch favorites, such as fluffy pancakes, golden waffles, savory eggs, crispy bacon, and flavorful sausages. A brunch reception exudes a festive ambiance, making it a memorable way to celebrate your union.
Crafting a Memorable Wedding Reception Menu
Once you've chosen the perfect wedding reception meal style, it's time to curate a menu that will tantalize your guests' taste buds. Here are some expert tips to help you create a remarkable and unforgettable wedding reception menu:
Mindful Budgeting
Setting a budget for your wedding reception meal is essential to ensure you make informed choices without overspending. By determining your budget upfront, you can explore menu options that align with your financial plans and still offer a delectable dining experience.
Guest-Centric Selections
Consider the preferences and dietary restrictions of your guests when crafting your menu. Opt for a diverse range of dishes to accommodate various tastes and dietary needs. Whether it's vegetarian, gluten-free, or allergy-friendly options, ensuring everyone has something delightful to enjoy will make your wedding reception truly inclusive and memorable.
Unleash Your Creativity 
Your wedding reception menu is an opportunity to showcase your creativity and personal style. Don't be afraid to think outside the box and create unique dishes that will impress your guests. Incorporate your favorite flavors and culinary influences to make your menu a reflection of your individuality. 
For instance, if you adore Italian cuisine, consider serving a sumptuous traditional Italian meal. If you cherish the outdoors, a barbecue-themed feast could be the perfect fit.
To inspire your menu planning, here are a few tantalizing wedding reception menu ideas:
Appetizers
* Succulent shrimp cocktail
* Artfully prepared bruschetta
* Petite quiches bursting with flavor
* Elegant stuffed mushrooms
* Irresistible crab cakes
Main Courses
* Juicy and tender filet mignon
* Herb-roasted chicken with delightful seasonings
* Perfectly cooked salmon with a delectable glaze
* Flavorful vegetarian lasagna with layers of goodness
Desserts
* Decadent chocolate cake with luscious ganache
* Indulgent tiramisu layered with espresso-infused goodness
* Irresistible ice cream sundaes with an array of toppings
Remember, the key to an unforgettable wedding reception meal is infusing it with your unique style and taste. With careful planning and attention to detail, you can create a menu that will leave a lasting impression on your guests, making your wedding day truly extraordinary and cherished for years to come.