The Ultimate Guide to Choosing the Perfect Wedding Venue
March 28, 2023

Melody Mburu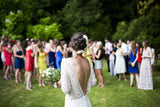 When planning your wedding, choosing the right venue is a crucial decision. With carefully targeted research, you can find the perfect venue that suits your style, budget, and guest list. If you intend on getting married during peak wedding season, it is essential to start searching at least nine months before the actual wedding date. Here is our ultimate guide to finding your perfect venue.
1. Determine your budget
Once you have created a wedding budget, the recommended amount to allocate for your venue is approximately 50% of the budget. Now you and your partner have done half the work in eliminating venues that do not fit within your budget. Additionally, determining your wedding style can also be beneficial in managing your expenses.
2.Choose your wedding style
Your choice of wedding aesthetic is personal and is meant to represent your shared personalities and individual tastes. Do you want a conventional, classic aesthetic or something more contemporary and fashionable? Do you favor formal ballrooms over rustic, outdoor settings?
You can also draw inspiration from blogs, wedding periodicals, and social networking sites to hone in on any ideas you may already have. Social media sites like Pinterest and Instagram may aid your decision-making,  but do not let them frighten you. 
You can also mix and match your styles and create something specifically tailored for you hence narrowing down your search for a venue.  
3.Decide on your wedding size
Another subjective and difficult choice is wedding size. You must carefully assess your wedding location in light of your background, your family, your religion, and your ethnicity. Some sites have a limit on the number of guests they can hold, while others could have particular limits on the wedding-related services you would like to offer.
Discuss with your partner what your goals are, and make sure you are both on the same page. You should both decide on your priorities for your wedding and what people you want to invite. If you have large families that are very supportive, keep that in mind and allocate enough space for them before planning for other guests. 
Remember to take into account both the venue's exterior and interior. A further consideration when choosing your venue is how you will manage the parking of automobiles for the wedding because this will influence how many guests you will have.
4. Consider the location
The location is an important feature when choosing a wedding venue. The first thing to think about is how easily people can get to the site. It's a good idea to select a venue close to major transportation hubs like airports or railway stations if most of your guests are coming from out of town.
When selecting a venue, you should also take the surrounding area, your wedding style, and your theme into account. The setting should fit the style and concept of your wedding. For instance, an outdoor or barn venue may be necessary for a rustic or antique wedding, while a ballroom or mansion may be required for an exquisite and formal wedding. 
Next, consider the noise level and nearby attractions. If visitors are coming from out of town, choose a location near lodging, dining, and other entertainment opportunities. Take into account the ambient noise, especially during outdoor weddings. A loud noise or other distractions that can interfere with your wedding ceremony or reception should be checked out. You may choose a wedding location that is both gorgeous and functional, making your special and unique day, by taking these aspects into account. 
5.Research on the amenities and features of the venue
First, food and bar services are crucial conveniences to take into account. Some venues provide in-house catering, while others permit outside caterers. Ask questions regarding the menus, food, and service. Also, inquire about the availability of a bar or whether you need to make arrangements for one. A quality bar service should provide a selection of drinks, including non-alcoholic alternatives.
Second, think about if bridal and groom suites are available. Bridal and groom rooms provide a relaxing environment for the bride and groom to prepare for their wedding. The suites should be roomy and well-equipped with mirrors, seats, clothing, and accessory storage.
While choosing a wedding location, take both inside and outdoor space availability into account. Depending on the climate and season, this can be necessary. Make sure there is sufficient seating, lighting, and shade in the outdoor space, and inquire if there is a covered or indoor option for bad weather.
Consider the accessibility of tools and technologies for presentations, songs, and speeches as well. Check to see if the location is equipped with the right hardware and software to fulfill these demands. Verify that the sound system, projector, and lighting arrangements at the venue are adequate. Ask if you can bring your equipment inside if not.
6. Visit and tour potential venues
This is the last step. Schedule a visit with the location managers and inquire about renting fees and availability. When taking a tour, take note of the venue's mood, lighting, and decor to see if it complements your wedding's style. 
Verify that the location can accommodate your guest list and has a distinct area for the ceremony and reception. Take into account the venue's location and accessibility, including parking, closeness to hotels and restaurants, and simplicity of entry for those from outside the area.
Generally, choosing the ideal site begins with visiting and exploring various wedding locations. You may select a venue that matches your demands and gives you and your guests an unforgettable experience by taking into account the layout, amenities, design, and location of the space. Carry with you a check-list of your priorities
Conclusion
Searching for a wedding venue is a big decision and it takes time and careful consideration but it is well worth the effort. Remember to have fun and have open honest communication with your partner. There will be moments of heightened emotions but let this time only bring you closer in your relationship and marriage.