The Ultimate Guide for Wedding Invitations and RSVPs
June 12, 2023

Melody Mburu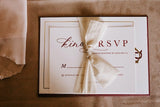 RSPVs are as old as ceremonies themselves
. It meant Please Respond, even though it has had other meanings in the past. 
In this comprehensive guide, we will get into the purpose of wedding invitations and RSVPs, provide expert guidance on timing, and share valuable tips to help you create a memorable and stress-free wedding experience
. Join us as we unravel the secrets to mastering wedding invitations and RSVPs!
The Purpose of Wedding Invitations and RSVPs
Express Your Unique Style
Your wedding invitations are more than pieces of paper – they are a chance to set the tone and showcase your unique style
.
Your invitations will serve as the first impression of your special day, whether you want a romantic garden wedding or a rustic, whimsical affair
.
From the design and colors to the choice of fonts and wording, every element can convey your personality and wedding theme
.
Let your creativity shine and create invitations that leave a lasting impression on your guests
.
Communicate

Clearly

and

Concisely
Wedding invitations are practical tools for conveying vital information to your guests.
Beyond the date, time, and location of your ceremony and reception, consider including more details
. This will help your guests plan well. Including dress code suggestions and accommodation options will better prepare your guests.
Add transportation arrangements, or even a wedding website, to be sure your guests are well-informed and prepared
. Remember, clarity is key when it comes to communicating important wedding details.
Use easy language to avoid any confusion and make it easy for your guests to understand the necessary information
.
Formality and Etiquette
Wedding invitations embody tradition and formality.
Symbolizing the importance of your union and demonstrating respect for your guests can start with RSPVs
. These traditional invitations exude timeless charm and elegance.
The choice of high-quality paper, and sophisticated designs, can create a sense of anticipation
.
Proper wording can also send excitement among your guests.
Embrace the etiquette of wedding invitations to honor the tradition and create an unforgettable experience
. Use formal language and traditional wording that reflects the formality of your wedding.
When to Send Wedding Invitations
Secure Your Guests' Attendance
To make sure people remember their wedding day, send save-the-date cards or notifications 6 to 8 months in advance
.
This is particularly crucial for destination weddings or if many of your guests will be traveling
.
By providing early notice, you give your guests the opportunity to focus on your wedding and ensure their presence on your special day
.
Save-the-dates can be fun and creative, reflecting the style of your wedding and giving your guests a glimpse into what they can expect
.
Formal Invitations - Timing is Key
As the big day approaches, send your formal wedding invitations approximately 2 to 3 months before your wedding
. This timeframe strikes a balance, allowing your guests enough time to RSVP. Also, they will be able to make the necessary arrangements without feeling rushed.
Pay attention to the wording, and presentation of your invitations to drum up anticipation and excitement
. Remember, your invitations are the gateway to your wedding celebration.
Consider adding a personal touch, such as custom monograms or embossed elements, to make them even more special and memorable
.
Extra Planning, Extra Time
For destination weddings, consider sending formal invitations even earlier, around 3 to 4 months in advance
.
This extended timeframe allows your guests to make travel arrangements, and plan their attendance
.
By providing ample notice, you enhance their experience and ensure a higher turnout for your special day
.
Destination wedding invitations can add elements that reflect the location or theme, and create a sense of excitement and anticipation among your guests
.
Ensure a Smooth Planning Process
When setting an RSVP deadline, allow your guests a reasonable period to respond. Aim for a deadline of 4 to 6 weeks before your wedding day.
This will provide you with enough time to complete your guest count and other logistical details
.
Communicate the preferred method of RSVP, to ensure a smooth and efficient process.
Include a response card with a pre-addressed and stamped envelope to make it easy for your guests to reply
.
Wedding invitations and RSVPs play an integral role in planning your dream wedding.
Beyond giving essential information, they serve as an expression of your unique style and a reflection of your love story
.
By sending your invitations at the appropriate time, you provide your guests with ample opportunity to prepare
. Remember, wedding planning is an adventure, so savor each moment, and have fun. Embrace the joy that comes with celebrating your love on this unforgettable journey.
As you navigate the world of wedding planning, let Solid Charm be your trusted companion. We offer expert advice and valuable tips to make your wedding a magical experience.
Explore our website for more in-depth guides and resources to help you plan your perfect wedding day
.