Elevate Your Wedding Experience with Live Entertainment
June 13, 2023

Melody Mburu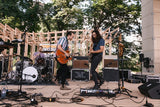 When planning a wedding, using live entertainment can add a touch of magic. Create unforgettable moments for you and your guests. From enchanting music to captivating performances, there are many live entertainment options available. In this article, we will explore the various types of live entertainment suitable for weddings. 
We'll discuss how these performances can enhance the overall wedding experience. Address potential restrictions or limitations that may arise at your chosen venue. Be inspired as we help you discover the perfect live entertainment to make your special day remarkable!
Bands, Solo Artists, and Ensembles
Live music brings a unique charm and sets the mood for your wedding. There are options to suit every musical taste. Whether you prefer soulful solo artists, energetic bands, or elegant string quartets, consider hiring a versatile band that can play a wide range of genres. You can have choices from a string quartet or a jazz ensemble for a sophisticated atmosphere. Choose performers who can captivate your guests with their talent. Create an enchanting musical backdrop for your wedding celebration.
Professional Dance Performances
Elevate your wedding experience with professional dance performances that mesmerize and entertain. Imagine the beauty of a graceful ballet routine or the vibrancy of a cultural dance. The excitement of a contemporary performance can also liven the room. Dance acts can add flair and excitement to your reception.  Leave your guests in awe and create memories that will last a lifetime.
Comedy Acts and Magicians
Consider incorporating comedy acts for a touch of laughter and wonder. Magicians also improve the mood of your wedding entertainment. Skilled comedians can lighten the atmosphere with their hilarious anecdotes. While magicians can leave guests amazed with mind-boggling tricks. These acts provide interactive and engaging entertainment. They make sure that laughter will fill the air throughout your wedding festivities.
Enhancing the Wedding Experience with Live Entertainment
Creating an Atmosphere of Emotion and Romance
Live entertainment has the power to evoke emotions. It can even create a romantic atmosphere on your wedding day. Picture the soft melodies of a harpist as you exchange vows. Imagine a soulful singer serenading you during your first dance. Live acts can heighten the emotional connection. They make your wedding an intimate and memorable experience for both you and your guests.
Live Bands and DJs
Nothing gets the party started like a live band or DJ who knows how to read the crowd and keep the dance floor packed. DJs can curate a playlist that caters to diverse musical preferences.  From classic hits to current best hits, live bands ensure an energetic and vibrant celebration. Witness the joy and excitement as your guests dance the night away.  Create an electric atmosphere that will be talked about for years to come.
Venue Restrictions and Limitations
Before finalizing your plans, think about any restrictions placed by your chosen wedding venue. Venues may have specific guidelines about noise levels, space availability, or technical requirements. Familiarize yourself with these guidelines to ensure a seamless incorporation of live performances.
Open Communication with the Venue and Discuss Live Entertainment
To navigate venue restrictions, engage in open communication with the venue management. Share your vision for live entertainment and seek their guidance. Find out what is possible within their guidelines. Discuss technical requirements such as electrical setups, sound systems, or staging needs. By collaborating with the venue, you can find solutions. Clear communication can meet both your entertainment desires and the venue's requirements.
Weather and Acoustic Challenges for Outdoor Events
If you plan to have live entertainment in an outdoor setting, there are things to consider. Weather conditions and acoustic challenges are the most common problems. Ensure the performers have proper coverings or other arrangements in case of rain or extreme heat. Discuss with the venue any sound or acoustic challenges that may arise. In an open-air environment, explore solutions, such as additional audio equipment or strategic positioning of performers.
Copyright and Performance Rights
When adding live entertainment to your wedding, it is important to think of licensing and legal requirements. Ensure that the performers you hire have the necessary licenses. They need permission to perform copyrighted music or other protected material. Discuss with the performers or entertainment providers about their compliance. Especially when it comes to performance rights organizations, to avoid any legal complications. Be aware of these considerations and help create a wedding experience that is both memorable and legally compliant.
Conclusion
Live entertainment holds the power to elevate your wedding celebration to extraordinary heights. With a wide range of options available, you can find the perfect live entertainment that resonates with your style and vision. From mesmerizing music to captivating performances, live entertainment enhances the overall wedding. Create an experience for cherished memories for you and your guests.
Keep in mind any restrictions or limitations imposed by your chosen venue and work closely with them to find suitable solutions. Solid Charm is here to guide you on this exciting journey. We will provide expert advice and inspiration to help you create a wedding day filled with joy. Let the magic of live entertainment unfold on your special day!