How to Choose a Wedding Dress for Each Season  
June 06, 2023

Melody Mburu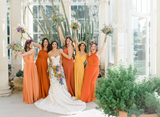 For every bride-to-be, choosing the perfect wedding dress is a significant choice. Beyond personal taste and preference, it's essential to take the season of your wedding into account. Each season has its own distinct charm and ambiance, and your outfit should blend in with the local climate, mood, and color scheme. 
Your wedding dress establishes the mood for the entire day and becomes a treasured part of your memories. In this post, we'll look at the top wedding dress trends for each season to help you choose the ideal dress for a breathtaking bridal appearance that perfectly embodies the beauty of the moment.
Spring Wedding Dresses
Spring weddings stand for rebirth, expansion, and the splendor of nature in blossom. Choose wedding gowns that represent the features of this season to capture its soul. Accept the ethereal and romantic appeal of light and airy materials like chiffon, organza, or tulle. 
These materials enable a dreamlike look and a smooth gait as you go down the aisle. To accentuate the delicacy and inherent beauty of your gown, flower embellishments—whether through delicate lace appliques or complex floral embroidery—are strongly advised. 
Soft pastel hues that convey the romance and freshness of spring include blush pink, powder blue, and mint green. These delicate colors lend the surroundings, which are in blossom, a calming, whimsical appearance.
Summer Wedding Dresses
Sunny sky, warmth, and a bright spirit are the hallmarks of summer weddings. Prioritize comfort and breathability while choosing a wedding dress for this season. Select breathable and light materials, such as chiffon, organza, or silk, that promote proper airflow and keep you from being overheated. 
Throughout the festivities, these materials will keep you cool and cozy. Options with short sleeves or no sleeves allow you to enjoy the summer heat while also improving ventilation. Choose flowing designs with a relaxed, carefree feel, including empire or A-line gowns. Whether you're dancing the night away or strolling along the beach, these looks allow you to move freely and comfortably. 
Consider the location and choose gowns if your summer wedding is held outside. Avoiding lengthy trains that could tangle or get heavy in grass or sand is part of this. Choose breathable materials with little decorations for a hassle-free experience.
Fall Wedding Gowns
Weddings in the autumn are renowned for their comfortable, pleasant ambiance, vibrant colors, and romantic mood. Be sure to appreciate the splendor of fall when choosing a wedding gown this year. To match the season's color scheme, choose dresses in warm, rich hues like deep red, burnt orange, or dark green. 
These colors add warmth and depth, nicely balancing the autumnal scenery and changing foliage. In colder climates, think about using heavier materials like brocade, velvet, or satin to give warmth. These components give the design a regal appearance and a sense of luxury. 
Choose dresses with long sleeves or illusion lace accents for more coverage and a touch of charm. These features ooze elegance and keep you warm on chilly fall days. Search for dresses with foliage-inspired details or patterns to embody the season. These natural-inspired accents give your bridal outfit a quirky and endearing touch.
Winter Wedding Dresses
A wonderful celebration of love against a snowy landscape is a winter wedding. This year, choose a wedding dress made of opulent, heavier materials like satin, velvet, or taffeta. In addition to providing warmth, these materials also produce a regal and elegant look. 
These fabrics' rich textures offer depth and beauty to your bridal dress and perfectly complement the winter season. Capes, long sleeves, and high necklines all provide warmth and style. Make use of these design components to stay warm while radiating class and elegance. 
You may embrace the winter wonderland concept by adding shimmering decorations or metallic accents. A touch of magic may be added to your outfit by wearing gowns with modest or striking shimmering elements that capture the light. You'll feel like a winter princess wearing these ornaments, whether they are delicate beading or elaborate needlework. 
You have additional fabric options for indoor winter weddings with heating. To create a unified and alluring wedding style, it is still crucial to take the mood and aesthetics of the season into account.
Tips for Choosing Seasonal Wedding Dresses in General
While there are special clothing requirements for each season, there are certain basic guidelines that are applicable year-round. Think about your wedding's location and venue first. Whether it's a beach, an exquisite ballroom, or an outdoor garden, the attire should fit the setting. 
A flowing, light dress, for instance, might be perfect for a beach wedding, whilst a more formal, structured gown may be suitable for a lavish ballroom occasion. Additionally, when selecting your dress, consider the color scheme of the season. A unified and aesthetically pleasant ambiance may be produced by blending in with the season's natural tones. 
Consider earthy colors for the fall or chilly blues and whites for the winter. Finally, keep in mind your body type and personal style. Select a dress that complements your body and the season while also reflecting your personal style. This makes sure that on your big day, you feel gorgeous, at ease, and full of confidence.
Conclusion
It's important to carefully consider the season while selecting the ideal wedding dress for your unforgettable day. You may create a bridal style that melds smoothly with the atmosphere and aesthetics of your wedding by choosing a gown that embraces the features of each season. 
Your dress will complement the charm and beauty of your big day, whether it is the light and airy fabrics and flower decorations of spring, the breathable and flowing designs of summer, the rich colors and coziness of autumn, or the opulent materials and dazzling elements of winter. The most crucial thing to keep in mind is that when you walk down the aisle, you should feel beautiful and secure in your dress.