Finding the Perfect Officiant for Your Wedding
June 27, 2023

Melody Mburu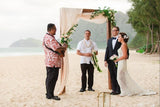 Your wedding day is an incredible and memorable event. It highlights love, joy, and the beginning of a wonderful adventure together. Selecting the perfect officiant to conduct your ceremony is one of the most important choices you'll make during the preparation process. 
Finding an officiant who shares your style and views is crucial. Whether you want a traditional ceremony or a more casual celebration in a modern environment. In this guide, we will examine both Christian religious and non-religious officiants. We will outline their advantages and disadvantages so you make an informed decision.
Choosing a Christian Religious Officiant
An intimate ceremony created by a Christian religious officiant. An officiant like a priest or pastor is a good choice for couples looking to honor their religion. There are pros and cons to choosing a religious officiant.
Advantages
A pastor will provide spiritual advice based on their understanding of Christian ceremonies and rules. They may include sacramental customs, prayers, and blessings in the ceremony. This will provide you and your guests with a unique and focused experience. Your priest's knowledge of officiating a religious marriage ceremony will provide a smooth flow. This leaves everyone feeling elevated and connected.
Disadvantages
Remember, couples with differing religious views may not be the best candidates for a specific officiant. Have open discussions with your spouse if you both have different religious backgrounds. Strike a balance that honors both viewpoints and religious degrees.
Additionally, there can be restrictions within a religious setting if you have a specific idea for a customized or unconventional wedding. Find a celebrant that will respect your religious traditions while being open to adding your special ideas.
Choosing an Atheist Officiant
A nonreligious officiant gives freedom and personalization to couples who want a more open-minded or secular ceremony. With this choice as well, there are advantages and disadvantages with it:
Pro
Using a nonreligious officiant enables you to customize your ceremony so that it honors your ideals and love story. They can design a ceremony that focuses on the path that brought you two together as well as your special bond.
A nonreligious officiant will work closely with you to design a ceremony that connects with your history and values. Whether you want to include cultural components, poems, or personal tales, they will take you through everything. Couples from mixed or non-religious origins find this choice appealing. Everyone feels welcomed and honored.
Cons
Remember that a nonreligious officiant might not follow the religious customs that certain guests might be used to. It's crucial to take into account your family's and friends' comfort with a secular wedding if they have strong religious ties. Set expectations and make the framework of the ceremony clear. This might assist attendees understand its beauty and help manage their expectations.
Factors to Consider in Choosing an Officiant
There are many things to take into account that guarantee the appropriate officiate. To find the perfect match for your wedding ceremony, consider the following factors.
Style and Tone
Consider the formality of your nuptials and the contemporary venue you've picked. An officiant who can accommodate your preferred mood and style will contribute to a great event. Whether you want a casual celebration or a black-tie occasion, pick someone who shares your vision.
Compatibility and Personal Connection
Your officiant will play a huge part in one of the most important days of your life. Making a personal connection with them is essential. Plan meetings with prospects to assess their interpersonal skills, communication style, and capacity for attentive listening. Your officiant must make you feel at ease and understood so as to share your love story during the ceremony.
Knowledge of Desired Ceremony Elements
Talk to prospects about their willingness to include cultural or familial traditions. Add particular readings, vows, or symbolic rites that are important to you and your spouse. Make certain that the celebrant you choose is not only amenable to include these components, but also has expertise in doing so.
Budget considerations
Create a budget for your wedding, which should include the officiant's services. This price shouldn't be the only deciding aspect. It's crucial to strike the ideal balance between knowledge and cost. Look into the going rates for officiants in your region and take into account the value they will provide to your ceremony.
Resources for Finding the Right Officiant
Think about using the following sites to select your ideal officiant:
Religious institutions and groups
Ask about their officiants or suggestions by contacting nearby churches, synagogues, or mosques that share your views. Consult with religious authorities to learn about their approach to marriage ceremonies. See if they may suggest a celebrant who matches your interests and style.
Reputable Wedding Officiant Services
Look into these services to find a wedding officiant that can fit your particular requirements. Find an officiant that shares your vision for the ceremony. That is made possible by the varied pool of officiants that these services frequently include.
Referrals from Friends, Family, or Wedding Planners
Ask friends who have just been married for recommendations. Speak with wedding planners who have experience dealing with different officiants. They may offer helpful advice and put you in touch with people that have a track record of providing stunning unique ceremonies.
Legal Considerations and Requirements
Before deciding, make sure the officiant you've chosen is legitimately permitted to marry people in your area. To prevent any last-minute issues, research the marriage laws and officiant requirements that apply in your area.
You may rest easy knowing that your marriage will be recognized legally if you are aware of the legal criteria.
Conclusion
The choice of your wedding ceremony's officiant is an important one. Consider the advantages and disadvantages. Discover the ideal match for your preferences, beliefs, and vision. Whether you decide to choose a Christian or nonreligious officiant. 
Style, suitability, familiarity with desired aspects, and money are all important considerations for making a ceremony that is memorable and meaningful. The perfect officiant will help make your wedding day a treasured milestone. So get started on your search early, communicate honestly, and keep this in mind.
At Solid Charm, we want to help couples make wise decisions by offering insightful information and helpful advice.