Adding Fun and Magic to Your Wedding Reception
June 26, 2023

Melody Mburu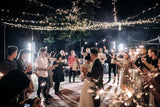 Welcome to the extraordinary world of wedding receptions, a magnificent setting where love, joy, and cherished memories are made. It's time to start thinking outside the box as you prepare for this happy occasion and add a dash of enjoyment, pleasure, and unique moments to your reception. 
In this post, we'll learn how to keep your visitors pleased with original and imaginative ideas, engaging subjects, customized ecosystems, and a range of interactive video games and entertainment alternatives. Prepare yourself for the experience of arranging a wedding reception that everyone who attends will remember.
Making Memorable Experiences
Let's get the party started off with some amazing games that will keep your guests captivated throughout the whole reception. Consider setting up a photo booth area with fun items to encourage people to take a pose and record happy memories. It will definitely help you make enduring memories. And why not create a special wedding hashtag? That is prominently displayed so that visitors can easily submit their photos on social media and become a part of your special day. 
Think of some fun facts about the pair to add to the laughs and entertainment by testing your guests' familiarity with your romantic history. It's an amazing approach to talk to anyone and start some interesting discussions. And don't forget to add some lawn games for guests to enjoy, such as big Jenga or cornhole, if you're looking for some friendly rivalry.
Themes and Trends
Don't forget to include a theme that creates the perfect atmosphere if you want to take your reception to the next level of fun and excitement. With beautiful floral arrangements, hanging lanterns, and live music, you can change your venue into a fanciful garden party and create an appealing ambiance. 
Alternately, replicate an era of romance by dressing in vintage-inspired clothes, driving vintage cars, and playing a collection of old music for your guests. Another popular style is rustic-chic, which uses burlap accents, wooden furniture, and a laid-back outdoor setting to create a hospitable atmosphere. Choose a subject that practically depicts your personality and love story, and let your creativity soar.
Adding Personal Touches
Personal touches that highlight the history of your relationship might be added to the wedding ceremony reception. Think of displaying a timeline of your relationship, emphasizing significant turning points and sentimental moments. Permit your guests to share in your adventure's memories. 
Custom wedding ceremony favors that reflect your passions or cultural background will wow your guests and offer a personal touch. Consider developing an exclusive cocktail that embodies your favorite flavors or is named after a meaningful place or shared experience. These thoughtful additions will make your reception welcoming, friendly, and a true reflection of your character.
Interactive Entertainment and Games
To keep your guests interested and entertained, take your reception to new heights with a variety of interactive video games and other entertainment options. Here are some things to think about:
Create a do-it-yourself photo booth with decorations, costumes, and a Polaroid camera so that guests may take candid and amusing pictures.

Plan a casino night with blackjack, poker, or roulette tables so that your guests may try their luck and have a fun evening.

Get the party started with karaoke so that attendees may unleash their inner rock stars and foster a fun and enjoyable atmosphere.

Host a dance-off competition where guests may display their best moves and get everyone on the dance floor.

To add a sense of wonder and surprise to your reception, think about employing interactive entertainers like magicians, cartoonists, or fortune tellers.

Set up a comfortable outdoor theater with a big screen and comfortable chairs so that your guests may watch a romantic or sentimental movie beneath the stars.

Create a s'mores station for your guests with a fireplace pit, marshmallows, chocolate, and graham crackers to give them a fun and engaging treat.
Conclusion
Creating memorable experiences for you and your guests at your wedding reception is the ideal way to celebrate your love and show your personality. You may transform your reception from a standard event into a fantastic one by including enjoyable activities, embracing subjects, customizing the setting, and giving interactive video games and entertainment. 
Let your imagination soar, fill every moment with happiness and excitement, and create an event that will be remembered for years to come. Cheers to a celebration full of affection, hilarity, happy memories, and top-notch interactive fun!