Etiquette Surrounding Wedding Gifts
July 13, 2023

Melody Mburu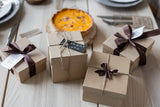 Wedding gifts are probably one of the reasons why people have a huge wedding. It is the promise of free gifts from loved ones and friends. As a guest, you have the honor of being part of this special day, and with that comes the question of what is an appropriate wedding gift. Finding a wedding gift does not have to be challenging, but it should be memorable. In this article, we will address most of the questions asked about wedding gifts and the proper etiquette for wedding gifts. 
Are Wedding Gifts Taxable?
This is one of the most asked questions regarding wedding gifts. In most cases, wedding gifts are not taxable. Most countries consider gifts as non-taxable income. That is why many new couples like getting money as a wedding gift. But, just to be safe, consult a tax professional and know the extent to which your gift would not raise eyebrows. 
How Much Can I Spend On Gifts?
There is no rule that determines exactly how much money you should spend on a gift. The amount of money can vary depending on the relationship you have with the couple or one of the couple members. If it is a close family member or a very close friend, you may be inclined to spend more than you would on an acquaintance. 
The most suggested breakdown of an acceptable spending amount is: for coworkers and far relatives, spend around $70. Friends and relatives, about $120. For close friends and family members, you can spend upwards of $150 if you so wish. 
That being said, the right amount to spend on gifts is what is in your budget. Things can get expensive really quickly if you have a lot of weddings to attend. Experts advise leaving out 10% of your salary for miscellaneous expenses like gifts. Plan around the weddings you are invited to so you can give enough for each. 
Is A Gift Card A Good Wedding Gift?
Yes, gift cards are a good wedding gift. Over 92% of people who were asked about this topic said that gift cards were an acceptable gift. However, choosing the right wedding gift is crucial as it can either be a great gift or a waste. A gift card for a shopping voucher of a certain amount is worth a lot to two people looking to start a family.
What Is An Appropriate Wedding Gift For Second Marriages
When choosing a gift for a second marriage, it's essential to recognize the unique circumstances involved. Consider gifting experiences or outings, personalized gifts that reflect their journey, contributions to their future plans, subscription services, charitable donations, or gift cards and cash for added flexibility.
What Kind Of Gift Do You Bring To A Wedding?
Gifts are customary at a wedding and most people bring skills that they think would mean a lot to the couple getting married. There is a simple way to be the best wedding gifter out there: to give the couple what they want. Here is how to do that:
Check the Couple's Registry
There is no need to scratch your head wondering what to buy as a wedding gift. The wedding couple has already laid out everything you can choose from in their wedding registry. This curated list will give you various things to choose from, a range in prices to budget, and saves you time on wedding gift research. That being said, you can always go off the registry to buy them a gift dear to you but you run a risk of getting them something they already have or something they do not need. 
Give to Their Cash Fund
Money is king, and though people say it is not a thoughtful gift, wedding couples tend to disagree. Engaged couples may set up cash funds or honeymoon funds where friends and family can contribute something special beyond an item. Unlike before, money as a gift has ceased to be a taboo. Instead, it is much preferred to give a wedding couple money as a gift as that way you are gifting them freedom.
Contribute to a Group Gift
As mentioned earlier, wedding gifts can get expensive really fast and it can be a good idea to chip in and buy a nice gift as a group. That is not the only reason to buy a group gift though. It is not uncommon for the couple to have some high-priced items on their wedding registry. It would be an extremely generous gift and the couple would like to thank everyone. Make sure all who give to the group fund sign the card so they may receive a gratitude letter.
Conclusion
Selecting a wedding gift is an opportunity to express your joy and support for the couple's union. Whether it's a first or second marriage, understanding the etiquette and considering the couple's preferences will guide you toward the perfect gift. From traditional options to creative and personalized gestures, there are countless ways to celebrate their love and commemorate this momentous occasion.
Remember, a thoughtful and heartfelt gift, chosen with care, will always be cherished and remembered by the couple. So, embrace this joyful task and let your gift be a symbol of love, joy, and well wishes as they embark on their journey together.