Designing a Non-alcoholic Wedding Experience that Wows.
July 10, 2023

Melody Mburu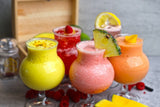 Imagine a wedding celebration that astounds your guests, captivates their senses, and ensures they get home safely. If you are looking for a way to truly create a creative unique experience, a non-alcoholic wedding is the way to go. Gone are the days when the absence of alcohol equated to a lackluster experience.
Today's couples are pushing the limits on wedding traditions, embracing new trends, and crafting captivating experiences. So, if you're ready to immerse yourself in a world of delightful surprises, read on as we unravel the secrets to planning a non-alcoholic wedding extravaganza.
The Rise of Non-Alcoholic Weddings
Since the pandemic, people became painfully aware of how drastically one's lifestyle can change and with that, what things they can do without. There has also been a rise in alcohol awareness and challenges to create abstinence from alcohol. Now, there has been a rise in experimenting with ways to have sober fun. Water, juice, or sodas are now just the bare minimum of what people can serve at their weddings.
That being said, the mocktail industry is in full bloom. Bartenders and drink experts have had to accommodate those not interested in alcoholic drinks but still want fun in clubs or celebratory events. Engaged couples are embracing this trend for a multitude of reasons. Not only does a non-alcoholic wedding promote inclusivity by ensuring that guests of all ages can participate but it leaves space for creativity to leave a lasting impression.
Hosting An Alcohol-Free Wedding
Gone are the days when weddings were synonymous with alcohol-fueled revelry. However, it is no secret that hosting such a wedding will mean packing a few activities in the time slot for your wedding. Here are some tips on how to handle the task of creating an alcohol-free wedding. 
Wedding Venue
Choosing the right wedding venue will be the first step to creating a fun non-alcoholic wedding. Speak to your venue managers to find packages that accommodate a sober ceremony. Incorporate natural elements like lush greenery, floral installations, or even a cascading wall of water to create a serene and mesmerizing atmosphere. Such a theme can inspire a lot when it comes to beverages and food. 
Mocktails
Just because alcohol is off the menu doesn't mean you have to sacrifice creativity or flavor. In fact, this is your chance to tantalize your guests' taste buds with a wide array of delightful and refreshing alternatives. Hire a mixologist or dedicated beverage curator who can concoct customized drinks that will align with your wedding theme.
In addition, you can surprise your guests with an interactive beverage station. Set up a DIY mocktail bar, complete with sparkling mixers, fresh herbs, and a rainbow of fruit garnishes. Encourage a fun game of drink making and even include a price if you can! Such things will create a tailored experience. 
Focus on the menu
Beverages may seem to take center stage but food is always king. Having a non-alcoholic wedding will present an opportunity to showcase culinary excellence. It gives you a chance to be bold, expressive, and diverse. Let your chef or caterer work closely with your mixologist to create magic. 
Surprise your guests with a whimsical tasting menu that introduces them to a world of unexpected food combinations. There is a bigger world of cuisines than canapes. Consider serving tiny plates with vibrant and unique meals. For some inspiration, research on smoked watermelon, sushi, or coconut ceviche.  
Timing and Wedding Length
Everybody hates a drag. With the choice of a non-alcoholic event, you will need to properly time the start of your wedding. Choose a time like the morning when people are less inclined to look for alcohol. You can also choose a time around noon so you can be done by the time people think of happy hour.
The general length of the ceremony will also be a great factor. Do not let people sit for lengthy speeches that seem to have no end in sight. Keep it short and sweet.
Creative MC and DJ
A vibrant and energetic mc can change the mood of your wedding ceremony. Employ the help of an emcee who knows the current trends, and latest dance moves and can interact with guests of all ages. Most times, an emcee will come paired with a Dj which will make your selection much easier.  
Use your friends and acquaintances to help you find an emcee who is up to the standard you want. Ensure that you have spoken to the duo in depth before the wedding day to avoid confusion or frustrations. Make clear to them your cultural and religious preferences to have a nice occasion. However, give them a chance to do their thing and entertain you with their experiences and talents.
Entertain with games and activities 
The base instinct of every human is a playful and childish center. We love games and we love to play together. Incorporate fun activities that can get cheered from your audience. Imagine a donut-eating contest where anyone can join with a price to win, I bet people would be interested to join in and cheer for their friends and family. 
Creative Seating
Consider your guests and their general interest. If you are having an intimate wedding ceremony and you know what your guests are interested in, you can be creative in the seating to strike up a conversation among like-minded people. You can even seat them in a manner that can strike up a debate on topics that they are passionate about. Never underestimate the power of a good conversation.
Conclusion
As the wedding industry continues to evolve, non-alcoholic weddings are carving their own niche as a sophisticated and inclusive choice for couples seeking something truly extraordinary. By embracing creative beverage alternatives, crafting delectable menu pairings, and curating interactive entertainment and enchanting ambiance, you can create a wedding celebration that will leave your guests in awe. So raise your glass, toast to love and happiness, and let your non-alcoholic wedding become a cherished memory that will be talked about for years to come. Cheers to a remarkable journey of delightful surprises and unforgettable moments!