What to Wear to an Engagement Party as a Guest
October 04, 2023

Melody Mburu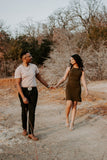 Receive an engagement party invitation? In this blog post, we'll help you decode the dress code, suggest outfits for ladies and gentlemen, give shoe shopping secrets, makeup, and hair hacks, and advise what NOT to do. Let's ensure you're the best-dressed guest at the party!
Decoding the Dress Code
Are you struggling to figure out what to wear to an engagement party? Fear not, as decoding the dress code can feel like trying to decipher a secret message from a spy movie. Understanding the theme is the first step. Make sure to read the invitation carefully to determine if it's an outdoor or indoor event. If it's outside, you might want to opt for something more relaxed. Formal or semi-formal attire?
Formal usually means suits and dresses, while semi-formal leans more towards cocktail attire. Dress appropriately for the venue, whether it's in a swanky hotel or a rustic barn. And don't forget to consider the weather, whether it's going to be scorching hot or freezing cold. Comfort is key, so make sure you dress appropriately and confidently. Remember, it's not about upstaging the happy couple, but flaunting your own style. So, go ahead and rock that outfit with confidence!
Dress to Impress
Getting an invitation to an engagement party is exciting but can be nerve-wracking. Ladies, go for elegant cocktail dresses for formal events and chic jumpsuits for semi-formal ones. Gentlemen, wear a well-tailored suit in classic colors and add a stylish tie or pocket square.
Accessories can make a difference. Ladies, statement earrings or necklaces can add glam to your outfit. Gentlemen, a sleek watch can elevate your look. Choose comfortable and stylish shoes. Ladies, go for block heels or strappy sandals. Gentlemen, wear polished dress shoes that match your belt.
Remember, celebrate love while looking your best. Don't steal the spotlight from the happy couple. Dress to impress!
What about shoes?
Shoes are the perfect balance between comfort and style! When it comes to shoes, finding the perfect balance between comfort and style is key. Ladies, I know you love those sky-high stilettos that showcase your legs, but let's face it, can you really dance all night in those torture devices?
Probably not. So, why not opt for a pair of heels that actually allow you to walk without toppling over like a newborn giraffe? It's a win-win situation. Now, gentlemen, I haven't forgotten about you. I know you love your trusty dress shoes, but if you're going to be on your feet all night, why not consider some stylish yet comfortable alternatives?
Loafers or brogues can be a great option. They add a touch of class to your outfit without making your feet scream in agony. When it comes to choosing between heels and flats, ladies, the choice is yours. It really depends on your personal style and how long you can withstand the pain.
If you can rock those heels with confidence and grace, then go for it. But if you'd rather be able to feel your toes at the end of the night, a pair of stylish flats can be just as fabulous.

Now, let's talk about matching your shoes with your outfit. Ladies, a general rule of thumb is to match the color of your shoes to your dress. If you're wearing a black dress, black shoes are the way to go. However, don't be afraid to experiment with different colors and textures to add a little flair to your ensemble.
Gentlemen, the key here is to choose shoes that complement the overall tone of your outfit. If you're going for a formal look, stick to classic black or brown dress shoes. For a more casual vibe, opt for suede or leather loafers in neutral tones. Just remember, shoes can make or break an outfit, so choose wisely.
So, my fashion-forward friends, when it comes to choosing the perfect pair of shoes for an engagement party, remember to find the ideal combination of comfort and style. Your feet will thank you, and you'll be able to strut your stuff with confidence all night long. Now go forth and conquer the fashion world, one step at a time!
Makeup and Hair Hacks
In the context of engagement parties, makeup serves to accentuate one's natural beauty. A desirable outcome is to appear stunning yet effortless, as though one has awakened in such a state, but with a little extra flair.
To accomplish this, selecting a lightweight foundation that provides a radiant glow without weighing down the skin is advised. Applying a touch of blush to the cheeks imparts a healthy flush while utilizing a neutral eyeshadow palette serves to emphasize the eyes while avoiding excess. Additionally, mascara - with a couple of coats - will produce fluttering lashes.
Let us now consider hair. A chic hairstyle is an imperative element of any engagement party. Options such as a sleek low bun or a messy updo are both suggestive of sophistication. Alternatively, loose waves can constitute a slightly edgier approach, adding a touch of glamour and imparting the appearance of having just stepped off the red carpet.
The central tenet is to showcase one's natural beauty and allow one's unique personality to shine through. Therefore, endeavor to create a makeup and hair look that will captivate onlookers and stir their hearts. With these strategies, success is within reach.
The Fashion Faux Pas to Avoid
The engagement party is a momentous occasion celebrated with love and happiness, and choosing the right attire is a crucial aspect. It is imperative to be mindful of what to wear to avoid any fashion blunders. Here are some essential tips on what not to wear to an engagement party.
Primarily, it is advisable to avoid a casual look. While comfort is desirable, jeans and T-shirts are not acceptable, and instead, formal attire is recommended to show respect to the hosts.
Furthermore, it is essential to exercise caution not to wear white, as that is traditionally reserved for the bride-to-be. Wearing white may unintentionally diminish the significance of the occasion and overshadow the bride-to-be.
Lastly, it is crucial to remember that the bride-to-be is the star of the day, and one must choose an outfit that complements her without being too flashy. Stealing the spotlight from the bride-to-be is a faux pas that should be avoided at all costs.
In conclusion, adhering to these simple guidelines will ensure that one does not end up on the fashion "don't" list at an engagement party. It is essential to maintain a professional and respectful demeanor while conveying sophistication and expertise. One must remember that love is in the air, and a wardrobe malfunction must not spoil the ambiance of the occasion. Enjoy the party with poise and style!
Conclusion
When composing in a business or academic setting, it is essential to present information in a professional manner. This requires the use of formal language and the avoidance of contractions, as well as ensuring that the text is clear, concise, and devoid of errors.
It is crucial to consider the target audience and their specific needs. Each audience has different requirements and requires specific information. When organizing the text, it is important to begin with the most critical information and present it in a logical order. Short sentences that contain only essential information are preferred, as lengthy sentences may obscure the main point by presenting too much information at once. The text should be direct, concise, and easy to follow.
The use of simple, familiar vocabulary is preferred over acronyms, jargon, and legal language. Plain language favors the verb form of the word over the noun form, which increases clarity. The active voice is preferred over the passive voice as it helps the subject to perform the action of the verb.
It is imperative to maintain the original meaning of the text and adhere to appropriate vocabulary and grammar. The final product should convey a sense of professionalism and expertise, leaving a positive impression on the reader. The final product should be roughly the same length as the original text.