How to Simplify Your Wedding Planning With RSVPs
June 15, 2023

Melody Mburu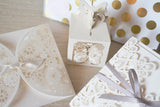 Congratulations on your upcoming wedding! As you embark on this exciting wedding planning journey, one crucial aspect that requires careful attention is managing your guest list and RSVPs. We understand that navigating these details can sometimes feel overwhelming, but fear not! 
In this comprehensive guide, we will provide you with practical tips, valuable insights, and additional advice to streamline the process and reduce stress. Join us as we unlock the secrets to effortlessly handling your guest list and RSVPs, ensuring a smooth and enjoyable wedding planning experience that you and your guests will cherish forever.
Effortlessly Managing Your Guest List and RSVPs
Embrace the Convenience of Wedding Planning Apps
In today's modern world, technology has revolutionized how we plan weddings. Wedding planning apps and internet tools are convenient and efficient resources for couples. These platforms offer many features, including real-time updates, automated reminders, customizable guest list management options, and even integration with other wedding planning tools. 
By using the power of technology, you can stay organized, easily manage your guest list and RSVPs, track dietary preferences, and save precious time. Look for user-friendly interfaces that provide seamless adjustments and accurate record-keeping throughout your planning journey.
Traditional Methods Like Detailed Tracking with Excel Spreadsheets
While wedding planning apps offer convenience, some couples prefer a more hands-on approach. If you enjoy the tangible aspect of planning, consider utilizing trusty Excel spreadsheets. Create a dedicated spreadsheet to meticulously keep track of your guests' names, addresses, RSVP statuses, meal preferences, and other essential details. 
Excel's versatile sorting and filtering features make it a reliable tool to efficiently maintain and update your guest list. This method offers you a comprehensive view and a genuine sense of control over your wedding planning process.
Designate a Reliable Point Person
Wedding planning can be a whirlwind of tasks, so why not enlist the help of a dependable friend or family member? Designate them as your point person for managing the guest list and RSVPs. This person can take charge of handling incoming RSVPs, keeping track of everything, and providing you with regular updates. 
Entrusting this responsibility to someone you trust will bring you peace of mind and allow you to focus on other aspects of wedding planning. Ensure that your designated point person is well-organized, detail-oriented, and possesses excellent communication skills.
Exploring Different RSVP Approaches
Mail RSVPs
In our fast-paced digital age, there's something undeniably charming about traditional mailed RSVPs. Including response cards with your wedding invitations adds a personal and sentimental touch to the invitation process. These physical cards allow your guests to engage in the time-honored custom of replying by mail. 
They can fill out the cards and send them back to you, creating a tangible connection between you and your loved ones. To foster even closer relationships, include a contact phone number or email address, allowing guests to reach out to you directly. This approach encourages more personalized interactions and contributes to a unique and memorable wedding experience.
Addressing Late RSVPs and No-Shows
Kind Reminders and Consistent Communication
Despite your best efforts, you may encounter cases of late or missing RSVPs. In these situations, tactful follow-up is key. Send gentle reminders via email, text, or phone call, urging guests to RSVP and provide the necessary information. Approach these interactions with understanding and consideration, as guests may have valid reasons for their delays or oversights. 
Express your delight when they confirm their attendance and offer assistance if they need further details or clarification. Remember to maintain open lines of communication and be responsive to any inquiries or concerns your guests may have.
Establish an Early RSVP Deadline
To account for the uncertainty of late RSVPs, set a deadline earlier than necessary. This strategic decision will give you ample time to follow up and make any necessary adjustments to your plans. It ensures a smoother planning process and reduces last-minute stress. Communicate the RSVP deadline to your guests, creating a sense of urgency without being overly pushy. Consider providing multiple options for RSVPing, such as online forms, email, or phone calls, to accommodate various preferences and convenience levels.
Prepare for Additional Guests
When planning your guest list and seating arrangements, remain flexible and prepared for potential surprises. Late RSVPs or unexpected attendees may occur, and it's essential to handle these situations gracefully. Have a backup plan in place or keep a few extra seats available to accommodate any additional guests. 
This flexibility will enable you to handle late RSVPs without compromising the integrity of your wedding experience. Throughout this process, keep your venue and caterers informed about potential minor changes in the guest count and collaborate closely with them to ensure a seamless transition.
Conclusion
Managing your guest list and RSVPs is a crucial step in the wedding planning process. By leveraging technology, exploring different RSVP approaches, and remaining adaptable and organized, you can streamline the process and create a seamless and delightful experience for both you and your guests. 
Effective communication, careful planning, and flexibility are the keys to successfully navigating guest lists and RSVPs. As you embark on this exciting phase of wedding preparation, rely on Solid Charm as your trusted source for reliable guidance, ideas, and tools to make your special day truly extraordinary. Happy planning!