How To Choose The Right Wedding Florist
May 25, 2023

Melody Mburu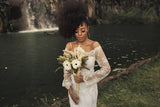 Plan a dreamy marriage ceremony and watch as an experienced wedding florist paints its colors so beautifully that it will take you on an unforgettable journey. A pivotal decision in planning your ideal wedding is selecting the best-suited florist for you.
Let us accompany you on a fascinating expedition where we reveal all there is to know about locating your dream wedding florist skilled in weaving together beauty and enchantment amongst each petal. 
Key Factors to Consider
Selecting the right wedding florist calls for careful consideration of various essential aspects while being well-informed is critical. It is highly recommended that you opt for an experienced and talented floral artist who can actualize the dream bouquet or arrangement you have envisioned. 
Additionally, you must ensure that their unique style and approach are aligned with what you're looking for in terms of budget and talent. An informed decision requires taking into consideration elements such as financial restrictions and access along with a history of compelling past projects. 
Your Budget
The location of your wedding and the complexity of your flower choices all have an impact on how much it will cost to hire a wedding florist. Most wedding industry professionals suggest that couples allocate approximately 10% of their overall budget specifically to floral designs and decorations.
Choosing flowers that are in season or making certain arrangements with foliage rather than flowers, working with an inexperienced florist, or visiting the closest flower markets can all help cut wedding flower costs. To ensure you get what you need from a flower vendor without going over budget, being forthright about your monetary cutoff points and blossom preferences is ideal.
Researching and Shortlisting Florists
Embark on an exhilarating journey through the world of wedding flowers by immersing yourself in an endless array of possibilities available on the internet. Browse through various wedding directories and social media channels to discover countless inspiring ideas that resonate with your creative vision.
One of the easiest and best ways to find a florist is Instagram! Use hashtags like #florist#yourlocation, and keep going until you find the florist you love. Make sure that the chosen florists know how to give shape to your ideas and can turn them into stunning floral creations when compiling the possible flower arrangements.
Questions to Ask During Consultations
You can initiate thoughtful consultations as soon as you've reduced your possible options of wedding florists. Use these meetings as an opportunity to collaborate with experts and bring your creative ideas to life through brainstorming sessions. 
Ensure that they possess the necessary skills by enquiring about essential details regarding service availability such as pricing structures and required minimum orders, and discover the personal creativity behind each design by asking for details on how it was infused. 
Request referrals or client feedback to gain confidence in the artist's skill. You can even go a step further and reach out to those referrals and get their testimonials. It will definitely help your confidence in them.
The Art of Creativity
Empower the wedding florist you selected to create an artistic floral arrangement inspired by your love tale; share intimate experiences and treasured memories with them, and they channel their creative talents into crafting bespoke floral displays for you that captures the very essence of your love story - turning it into a truly unforgettable experience.
Highlighting Significance and Expertise
To successfully unite creativity with skill in this floral odyssey requires a guiding light of expertise. The mastery of a seasoned wedding flower artisan lies in their ability to arrange awe-inspiring bouquets with attention towards factors like client preference and financial constraints. Their previous projects present evidence of their talent as well as give us insight into future possibilities.
Guiding Your Research
Unveil a world of possibilities through effective research methods. Explore online platforms, discovering wedding directories, floral design blogs, and social media communities dedicated to celebrating the beauty of blooms. Delve into reviews, recommendations, and testimonials that unveil the experiences of couples who have embarked on similar floral journeys. Seek inspiration from real-life stories that showcase the transformative power of wedding flowers.
Conclusion
Discovering the right wedding florist involves finding the perfect balance between creative expression and unwavering trust. Now that you have taken stock of the key considerations involved in arranging flowers – such as expertise requirements or stylistic preferences – while taking into account your available budget or examining different florists' portfolios, you are ready for an exciting journey.
The combination of successful research techniques with insightful consultations and unlocking the creative potential within your favored wedding florist will provide a remarkable display of flowers for you on that big day. As you follow the guidance of your heart and apply this newfound knowledge, watch as beautiful florals come into being.