How Many Groomsmen Should You Have?
May 11, 2023

Melody Mburu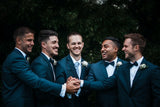 You probably consulted with your best friends before you popped the question to your current bride-to-be, and thank God she said yes! You now have to choose who gets to stand beside you as you marry the love of your life. Depending on your social personality, this decision can be quite difficult or very very difficult.
So, how many groomsmen should you have? Does it have to be the same number as the bridesmaids? What if you do not have enough friends to stand by you or how do you choose among the numerous people you feel you want beside me? 
These questions stress out a process meant to be enjoyable and special. Wedding planning is already a tense process with budgets and venues and seating charts. In this article, I will go through how to choose your groomsmen, their duties, and how to involve others who "do not make the cut". 
How to choose your groomsmen
Many weddings have had around 4-5 groomsmen standing by the groom. This number is so common that you may feel that you need to conform to it. That is not necessary. 
Size of the wedding
The first thing you and your fiancé need to consider is the size of your wedding. Small intimate weddings call for a smaller bridal party compared to a big event. An intimate wedding will call for a wedding party of 4 people, two bridesmaids, and two groomsmen. 
For a larger event, you can have a larger wedding party. If you know your event is going to have more than 200 guests then why not have even more than ten people for your bridal party? It is perfectly acceptable. It is important, however, to remember the capacity of your venue and the general shape of the room.
Budget
Consider your budget for the wedding and what you are willing to spend on your bridal party. Asking someone to be your groomsman means you are either giving them or yourself a budget. If you are the one buying their suits and shoes, consider how much you are going to spend.
If you are going to ask them to buy their own outfits, then consider who you are asking and their current financial state. You do not want to ask someone to be your groomsman and have them feel pressured.  
Number of the bridal party
Another criterion to decide upon is whether you want an equal number of bridesmaids to groomsmen. Here, depending on both your personalities, you will have to discuss who absolutely has to be in the bridal party. Most weddings have had more bridesmaids than groomsmen. 
However, if you are the one with more friends, you may end up having more gents than ladies. Being that this decision is purely personal, it is important to mention that symmetry looks good in pictures.
Trust and personal relationship
Next comes the actual choice of groomsmen. These gents have to be people who are not only meaningful to you the groom but those who can handle responsibilities. People you can trust with stressful responsibilities like transportation are where your priorities should be.
Start with close family members. This can be a brother, cousin, or a relative you who expects to be there for you. Consider the men who have had a significant impact on your life. Asking them to be a groomsman is a way to honor and strengthen your relationship with them.
Group Dynamic
Lastly, consider the group dynamic. It is advisable to have people in your group who can work together to make your wedding a success. Your groomsmen are our support system. They should not then be a source of stress or disappointment.
What then happens to those who you did not ask to be groomsmen but are special to you?
Usher
You can still give purpose to those who could not be groomsmen but want to be part of your wedding. This is an honorary position that you can give those friends and family. Making them an usher whose work is to help show your guests to their seats or escort the elderly to where they need to be. This is more suitable for large weddings. Speak to your wedding planner or event director to find space for them.
Conclusion
Having reliable groomsmen by your side is a blessing. Count yourself lucky to have friends who will stand by you to celebrate the beginning of your new life. 
We at Solid Charm are devoted to being your partner in this process by not only giving you information but making available affordable clothing for you and your gents. Check out our store for competitive pricing!